Hi! Are you looking for flushable wet wipes? You've found them! 
Stomach viruses are the worst. I've written about staying hydrated and the items I keep in my sick kid prep list but I wanted to revisit this topic, because odds are, if you come down with even a mild stomach bug or food poisoning you'll be revisiting the restroom…over and over again.
And it really starts to chafe.
When a bug hit several members of the family, I re-purposed an old homemade baby wipes recipe into a homemade toilet wipes recipe out of necessity.  I wasn't blogging when I my kids were babies so I don't have an exact source 🙁  I was barely functioning during those early years of motherhood. The kids (thank goodness) have been out of diapers for a couple of years.
I originally considered the homemade baby wipes one of my "Pinterest fails" because the wipes were too small for infant blow outs.  I also made them in an old wipes container so they were difficult to get out of the container, unlike store bought wipes.
DIY Wet Wipes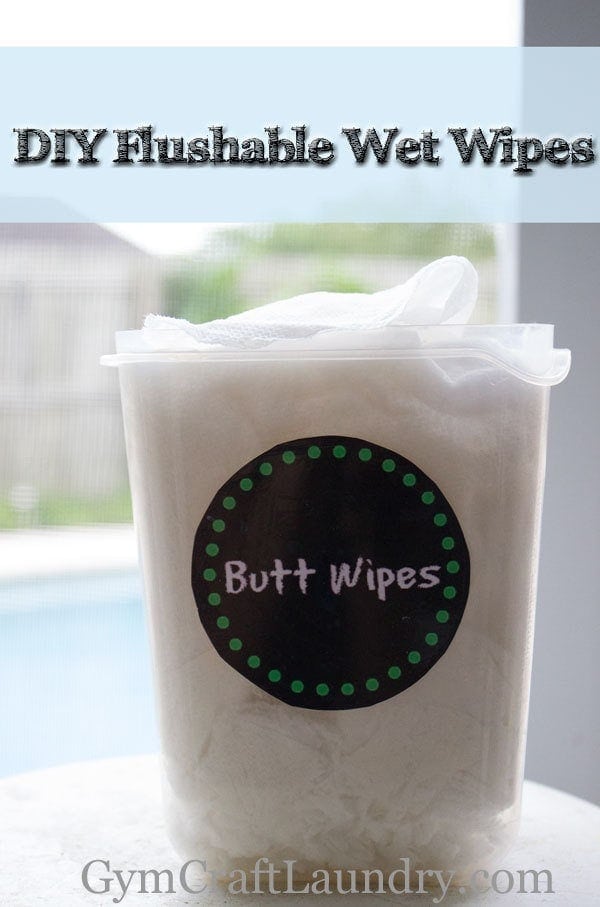 I did use homemade wipes when I was potty training.  (Have you seen the cost of the Pullups potty training wipesor the name brand toilet wipes?  Scandalous!!) The homemade version works well for toddlers.
I also didn't mind using a bunch at once because they are so inexpensive to make.
The day of the stomach bugs, I was trapped in the house with a miserable child. My child was complaining that it hurt when I wiped her. My husband was deployed so there was no "running out to the store to grab wipes."
Fun times.
So I did what anyone at the end of their rope would do. I made some…