one or two fun things with the kids
each week and we keep a loose "routine." We swim, visit the bookstore, go to the park, or visit with friends or family.
We get in physical activity everyday. I walk or jog while the kids ride their bikes or scooters. My mother in law recently moved in with us and now the kids ALSO join her when she goes for her walks. (My mother in law is a teeny bit competitive and doesn't like it when I have more steps than she does. I get in more steps now just to keep her on her toes lol.)
Related: Super Easy DIY Camping Wipes
But, the heat is ridiculous in Florida so we go in the early evening hours. But then we deal with something almost as bad…bugs.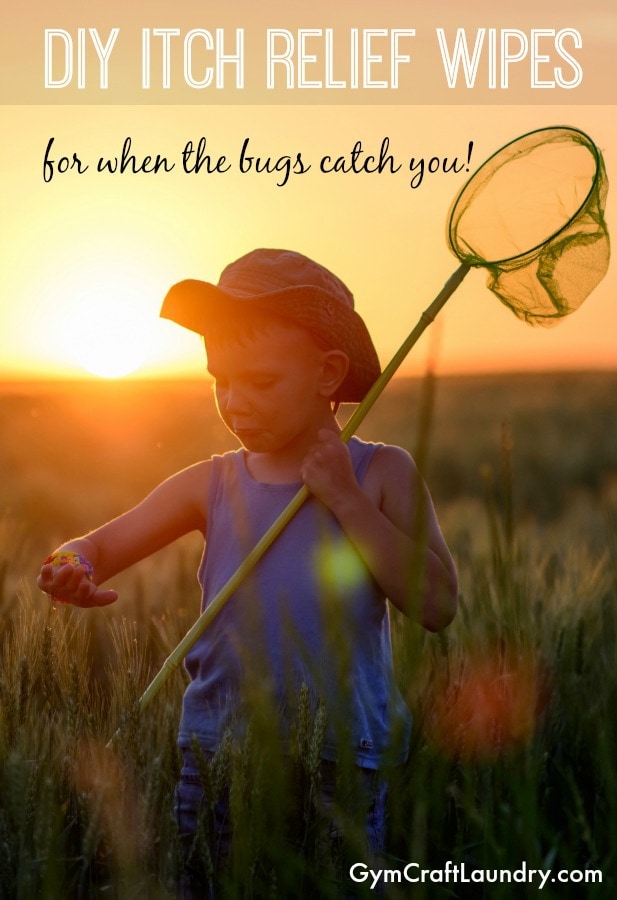 One of the worst things about living in Florida are the bugs! It doesn't seem to matter how much [easyazon_link identifier="B000FTNBLQ" locale="US" tag="scrugcorne-20″]bug spray[/easyazon_link] we use or what time of day we go outside, inevitably a mosquito, ant, or gnat gets one of us.
I buy a bunch of [easyazon_link identifier="B001G7RCGG" locale="US" tag="scrugcorne-20″]hydrocortisone itch cream tubes[/easyazon_link] every time we go to the dollar store but I can never seem to find one when I need it. I used to use it for eczema spots (before I started making my own body butter) and now I only search for it when there is an itchy bug bite to contend with.
Our reliance on the store bought cream is a little pricey (even though it's only a dollar a tube) because we always lose them and buy more.
As part of my move toward a more natural home, I decided that the itch cream would be my next easy replacement. But rather than make a cream, I wanted a more portable solution.
So I came up with these simple homemade itch wipes. I love the ease of using disposable wipes. I especially like the thriftiness of making homemade wipes!
How to make bug bite wipes
Materials: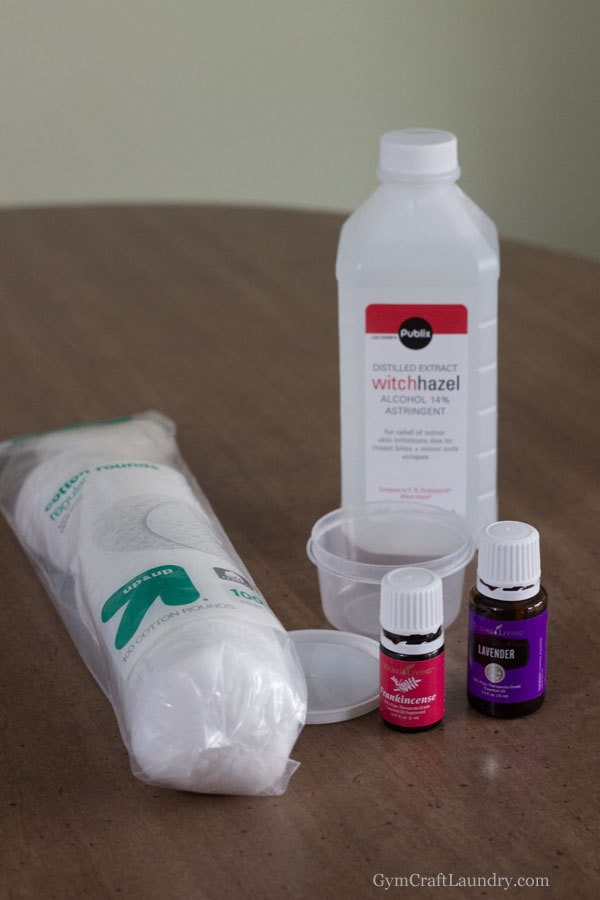 Little condiment sized plastic container or [easyazon_link identifier="B00SDM98LY" locale="US" tag="scrugcorne-20″]zip top bag[/easyazon_link] (I got a pack of the ramekins at the Dollar Tree.)
5-6 [easyazon_link identifier="B0033WSTXM" locale="US" tag="scrugcorne-20″]cotton rounds[/easyazon_link]
2 Tbl [easyazon_link identifier="B00016WW8Q" locale="US" tag="scrugcorne-20″]witch hazel[/easyazon_link]
5 drops lavender essential oil
3 drops frankincense essential oil
Homemade Itch Wipe Directions:
In the container, add two tablespoons of witch hazel. Witch hazel is an astringent that also soothes the skin. I use it on razor burn too!
Drop in 5 drops of the lavender esssential oil and 3 drops of frankincense essential oil (both are known to soothe itchy skin)
Add cotton rounds to soak up liquid.
I added a label because I "found" these [easyazon_link identifier="B0045QFLFO" locale="US" tag="scrugcorne-20″]cool fabric sticker sheets[/easyazon_link] when I was decluttering. Plus, my kids can read now…so I label everything.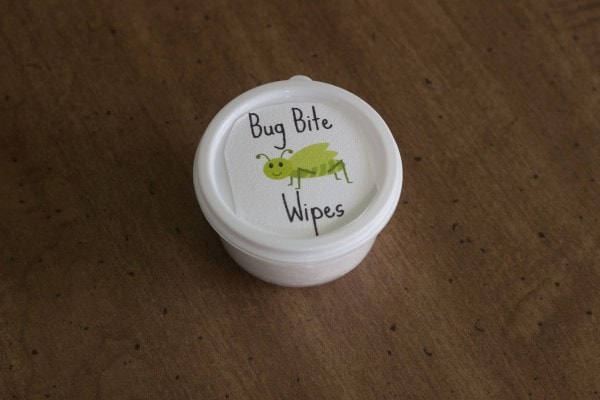 For more information on why I use essential oils, read my post on why I make my own cleaning supplies.
Yield: 5-6 wipes
Homemade Itch Relief Wipes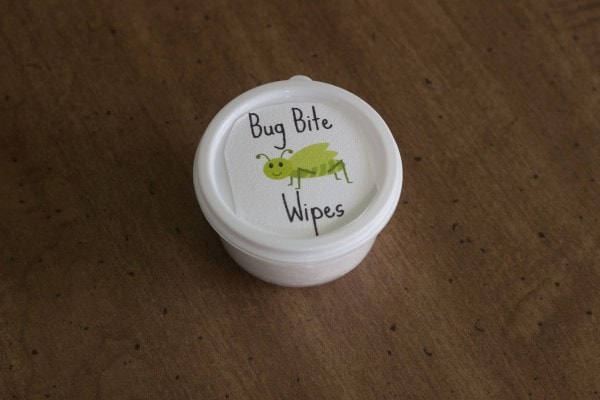 These little pads naturally soothes itchy spots.
Materials
Condiment size plastic container
5-6 cotton rounds
2 Tbl witch hazel 
5 drops Lavender Essential Oil
3 drops Frankincense Essential Oil
Instructions
Add two Tbl of witch hazel to the plastic container.
Drop in the essential oils.
Place the cotton rounds on top of the liquid.
Seal container and turn upside down to saturate the wipes.
If you want to learn more about essential oils, register now for my free 14 Day email course: Essential Oils 101







Are your kids are mosquito magnets too?

Don't let mosquitoes keep you inside! Make this citronella torch

7 Tips to Keep those Mosquitos Away

Have you been spending more time outdoors or do you plan to? I wholeheartedly believe in outdoor time. I try to do at least