I love this adorable homemade Christmas Ornament. This glass ornament is made with mod podge and a map.  It's a perfect project to add to your Merry Crafty Christmas this year! Trust me, it is easier than it looks.
One great thing about mod podge decoupage crafts is that they don't have to be perfect. This is one project that the kids can work on with you and still get the desired look. (Sorry kids. Your crafts always are special to me but they don't always look how I originally envisioned.)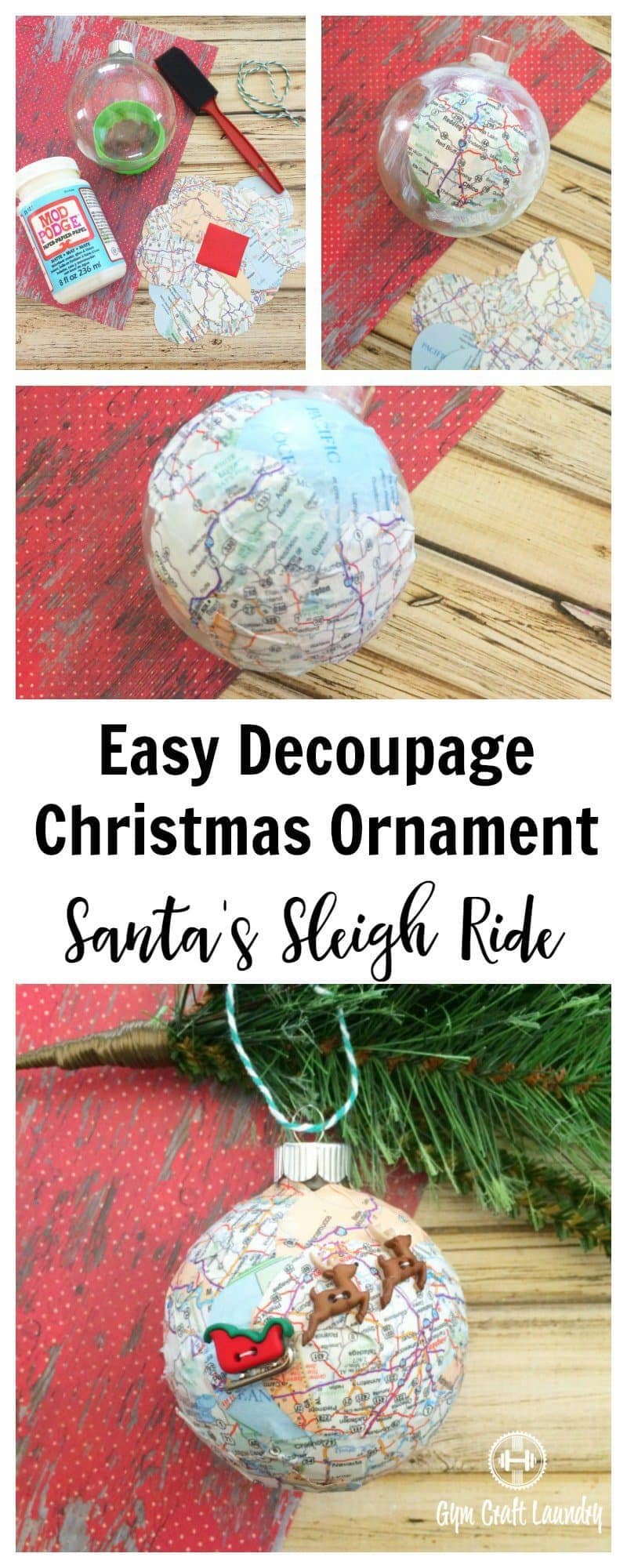 Materials for the DIY Map Ornament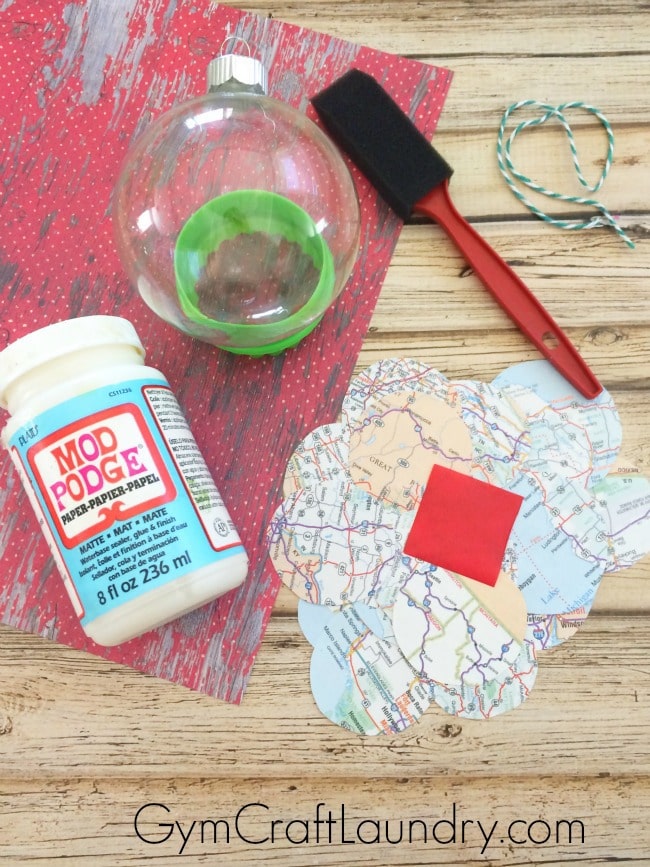 2″circle punch 
map or atlas
Plain glass or plastic ornament
Mod Podge
Foam Brush
Decorative string
Santa's sleigh buttons
(if you can't find these, or want to make several to give as gifts grab this printable Santa and Sleigh sticker sheet!)
Needle and thread
Hot glue/hot glue gun


Directions for Easy decoupage Santa Sleigh Ornament
1. Cut small 2″ circles from your map (maybe your favorite places, where you live, or places you want to visit)
2. Paint your clear ornament with mod podge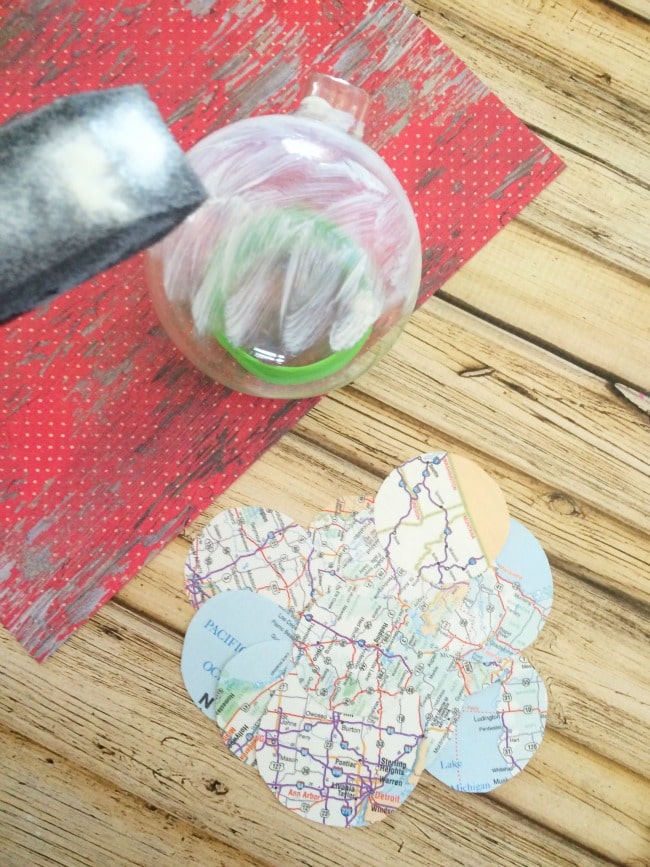 3. Place your map circles onto your ornament, then paint more mod podge on top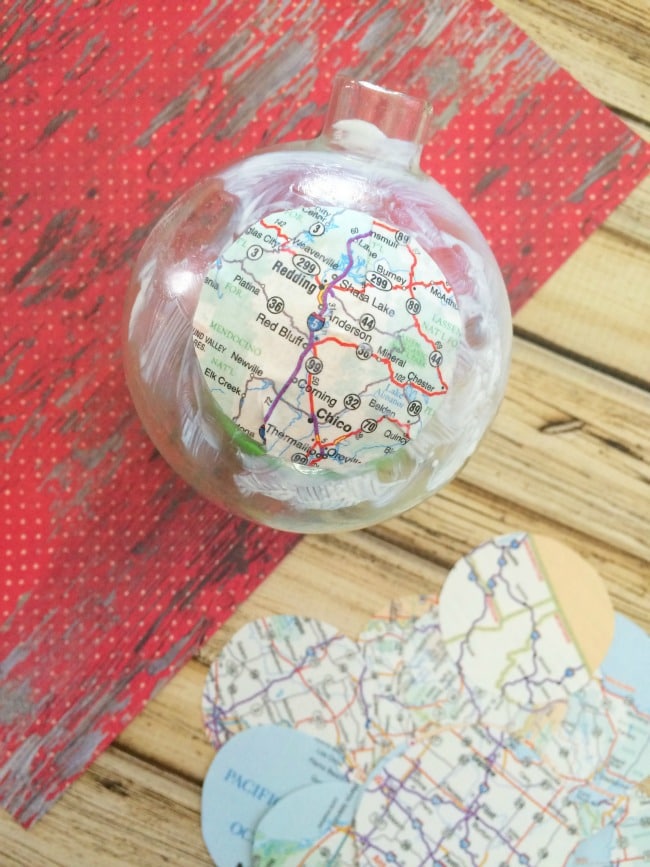 4. Smooth the maps out with your fingers, it's messy but works best this way
5. Once your ornament is covered completely, let dry for about an hour.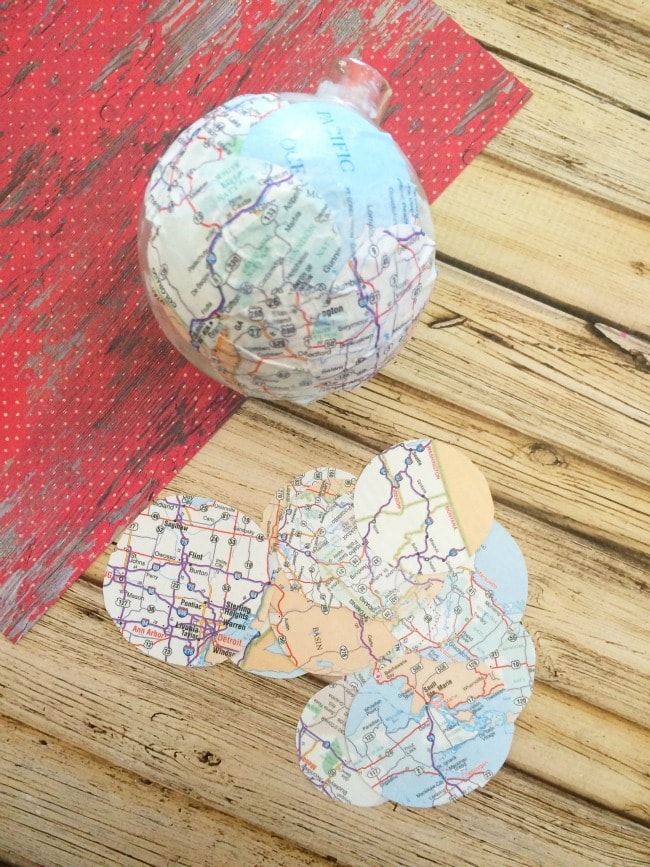 6. Now using your needle and thread, thread your buttons and tie off the string (just so they don't look like empty buttons)
If using these printable stickers instead, then place sticker down where you'd want the button. Note* the sleigh is difficult to cut out. I suggest printing it on clear sticker paper or clear vellum and decoupaging it before you add a sealer like Minwax polycrylic.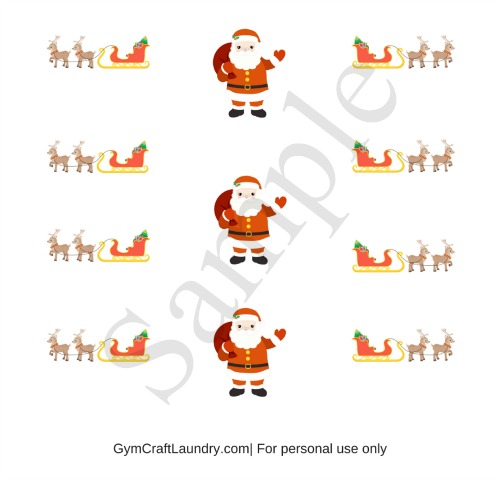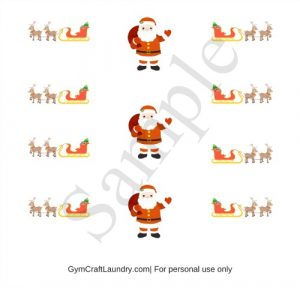 7. Hot glue your sleigh, and a couple reindeer in front of your sleigh to your map ornament (if you don't have these or can't find them, use a sleigh sticker!)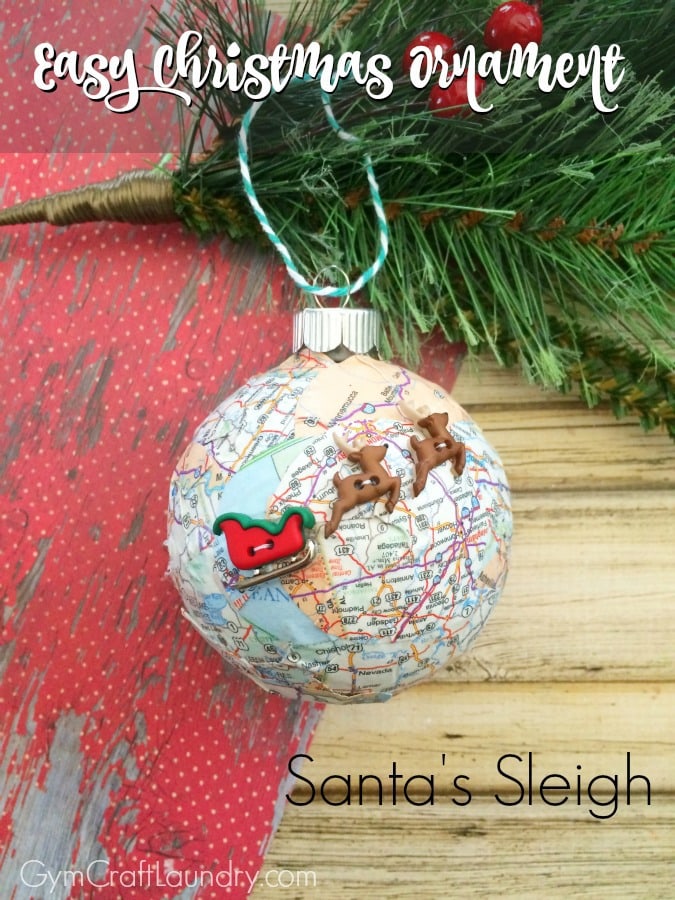 8. Tie a piece of sting to the top of your ornament and place on your Christmas tree!
This adorable decoupage Santa's Sleigh Ornament is a perfect way to commemorate his trip around the globe!
Want to wow your friends and family with more homemade Christmas Ornaments like this one?

Adorable DIY Gumdrop Centerpiece
Faux La La La La: A trio of faux glass ornaments
Pinecone Wreath Christmas Ornament
Do you like to get crafty for Christmas? 
My friend Cerys from Rainy Day Mum has an awesome Countdown to Christmas e-book that I love!
Check out this craft supply site I found called Create For Less. They have so many craft supplies at DISCOUNT prices! Many of us craft gifts to save money. Don't let supplies break your Christmas budget. Take a look at what Create For Less has to offer.
Maybe you don't have time?
I found these adorable ornaments and Home Decor pieces online that will go well with my tree!
First Christmas Wood Slice Ornament
Snowman Christmas Appliance Handle Covers
Have a Merry Debt Free Christmas!