Christmas is the best time for crafting! I am sharing this fun and easy no sew Burlap Angel Christmas ornament. This is an easy craft that even kids can make. I love how classy and simple this handmade Christmas ornament turned out.
It can be a little difficult to explain though, so make sure you watch the video to see how to make it!
Burlap Angel Christmas Ornament

Materials:
Affiliate links are included for your convenience.
[easyazon_link identifier="B00MXBEIJI" locale="US" tag="scrugcorne-20″]Burlap[/easyazon_link]
–6″ x 10″ for the body and 6″ x 6″ for the wings
[easyazon_link identifier="B01HEPXEE2″ locale="US" tag="scrugcorne-20″]Twine[/easyazon_link]
Plastic Shopping Bag
[easyazon_link identifier="B01BRGU8R0″ locale="US" tag="scrugcorne-20″]Scissors[/easyazon_link]
Ruler or [easyazon_link identifier="B000B7Q9FM" locale="US" tag="scrugcorne-20″]Tape Measure[/easyazon_link]
[easyazon_link identifier="B00NIG7P6U" locale="US" tag="scrugcorne-20″]Silver Pipe Cleaner[/easyazon_link]
[easyazon_link identifier="B000NHZ3IY" locale="US" tag="scrugcorne-20″]Tape[/easyazon_link]
[easyazon_link identifier="B01178RVI2″ locale="US" tag="scrugcorne-20″]Hot Glue[/easyazon_link]
Don't forget to use the coupon code GYMCRAFTLAUNDRY in my Etsy Christmas Ornament shop! You save 30% and get free shipping!!!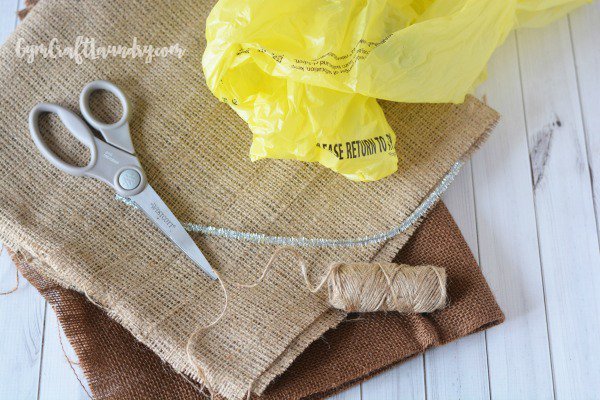 Directions for this no sew Angel Ornament:
First, prepare your materials!
Cut a piece of twine, about 12″ long and set aside, but within reach.
Ball up the plastic bag tightly and secure with tape.
Place your piece of body burlap onto a flat surface. Measure about 2″ in from one end and place your plastic bag ball in the center.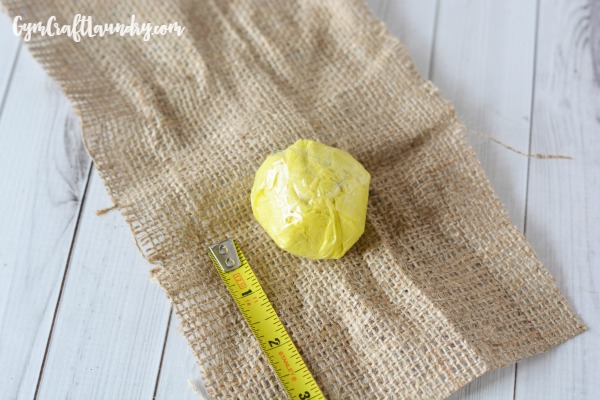 Wrap the burlap around the ball/head and hold the end tightly. Secure with the twine.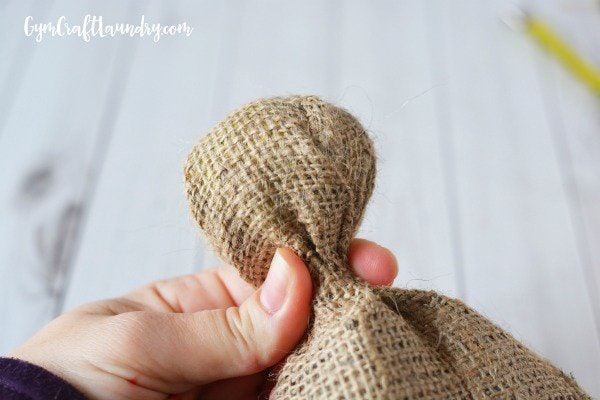 Fold your smaller piece of burlap into an accordion fold and press firmly to create creases.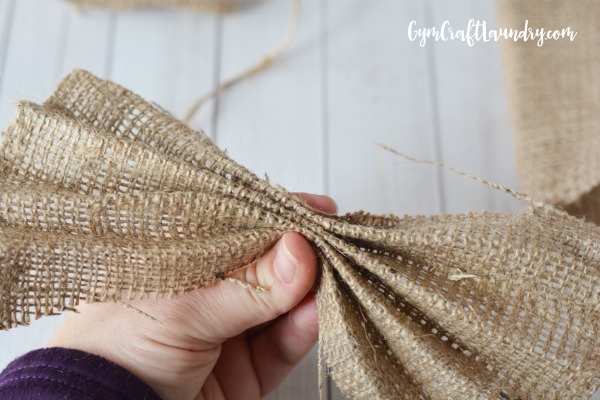 Pinch in the center and place the wings, behind the head and secure them with the twine.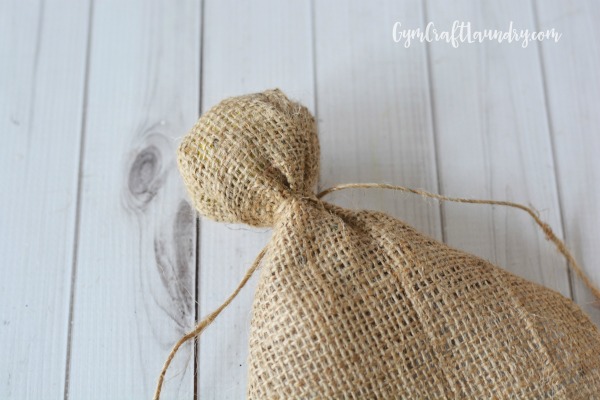 Wrap the bottom portion of the body up and around to the back of the head and secure with twine.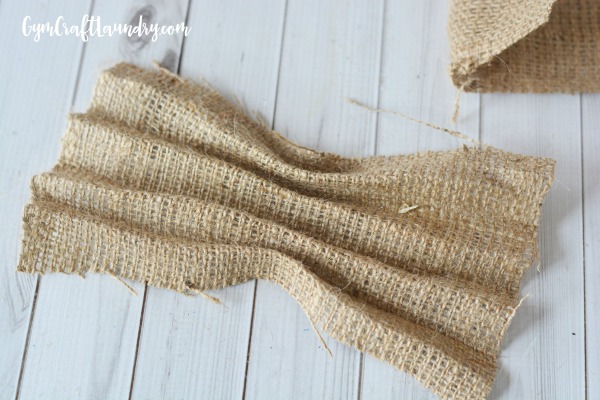 Fold a silver chenille stem into a circle, about the size of a half dollar and wrap the ends together to secure. Affix the halo to the top of the head with hot glue.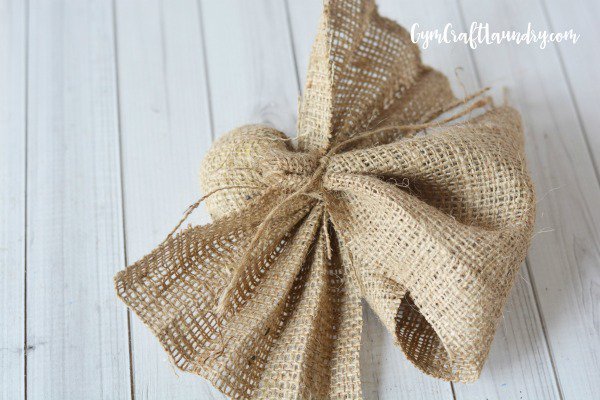 Tie a small piece of twine using a slip knot and affix to the back of the head with hot glue.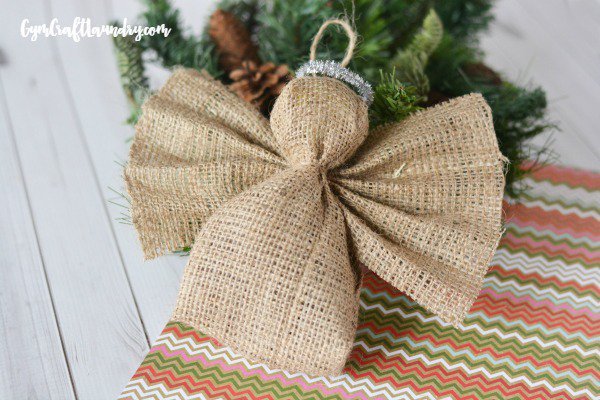 How easy is that? Make a bunch and give them to friends and family members as gifts.
Still unsure about how to fold them? Watch the video so you can see how I do it!
Don't want to buy all the stuff to make one angel? I sell burlap angel craft kits in my shop. Don't have the time to make them? I also have completed burlap angels for sale on Etsy!
Yield: 1 Ornament
Easy Burlap Angel Ornament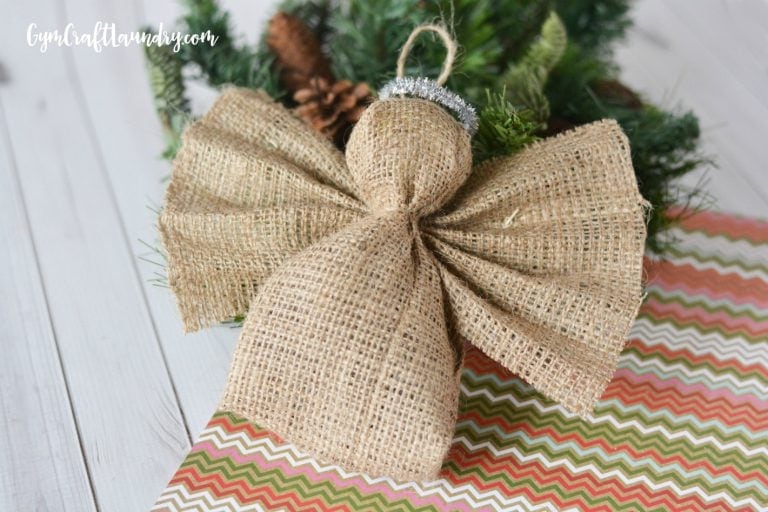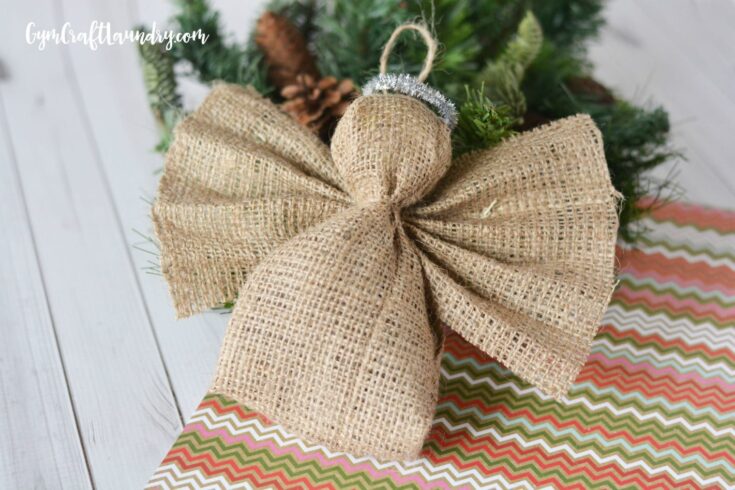 This no sew burlap angel ornament is the perfect craft for your rustic Christmas decor. Make it to give as gifts!

Prep Time 2 minutes

Active Time 5 minutes

Total Time 7 minutes
Materials
Plastic shopping bag 
Masking Tape 
Silver Chenille Stem 
Hot glue 
Instructions
Cut a 12 inch piece of jute twine set aside. Cut a small piece to serve as the hanging loop.
Cut two pieces of burlap ribbon. One 10 inches long (for the body) and the other 6 inches long (for the wings.)
Ball the plastic bag up tightly and secure with the masking tape.
Place the longer piece of burlap on a flat surface. Put the plastic bag ball near the top, about two inches from the top. (see video)
Wrap the burlap around the ball and tightly secure with the twine.
Bring the bottom of the burlap ribbon up to the head (see video) and using the same piece of twine, secure it.
Set aside.
Fold up the smaller piece of burlap accordion style. Pinch the center and fan out wings. Tie to the angel body. (Seriously, see the video. It is easier than it sounds.)
Make a halo out of the chenille stem. Use hot glue to affix it to the head. Glue the hanging loop to the back of the angel's head.
Do you love Handmade Christmas ornaments? Have you seen my other popular homemade Christmas ornament? My readers love this decoupage Santa Sleigh Map Christmas Tree Ornament! I also have a fun scented ornament too!
These beautiful nature inspired ornaments from Rainy Day Mum are sure to be a hit too.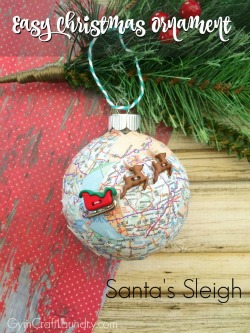 You might also enjoy these posts during this time of year:
Easy Pine Cone Wreath Ornaments
Burlap Canvas Snowman Wall Art
Have a Merry Debt Free Christmas!