After organizing and cleaning out our linen closet, I ended up with a few towels that weren't fit for donation.  Most of them I threw away, but a few I cut up into small six inch squares and stuffed into a recycled Clorox Wipes container.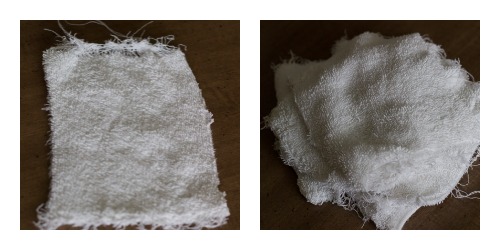 I figured these can help with quick and tough clean up jobs while I am doing my fall cleaning and decluttering.  They come in handy when emptying cupboards.  I can grab a DIY cleaning wipe and quickly wipe down the shelves.
I still use Clorox wipes for quick disinfecting jobs, like wiping down the cell phone, remote controls, game controls, light switches etc.  But disposable wipes are pretty costly.  These reusable cleaning wipes can be tossed in the washer or tossed in the garbage if I wipe up something really nasty.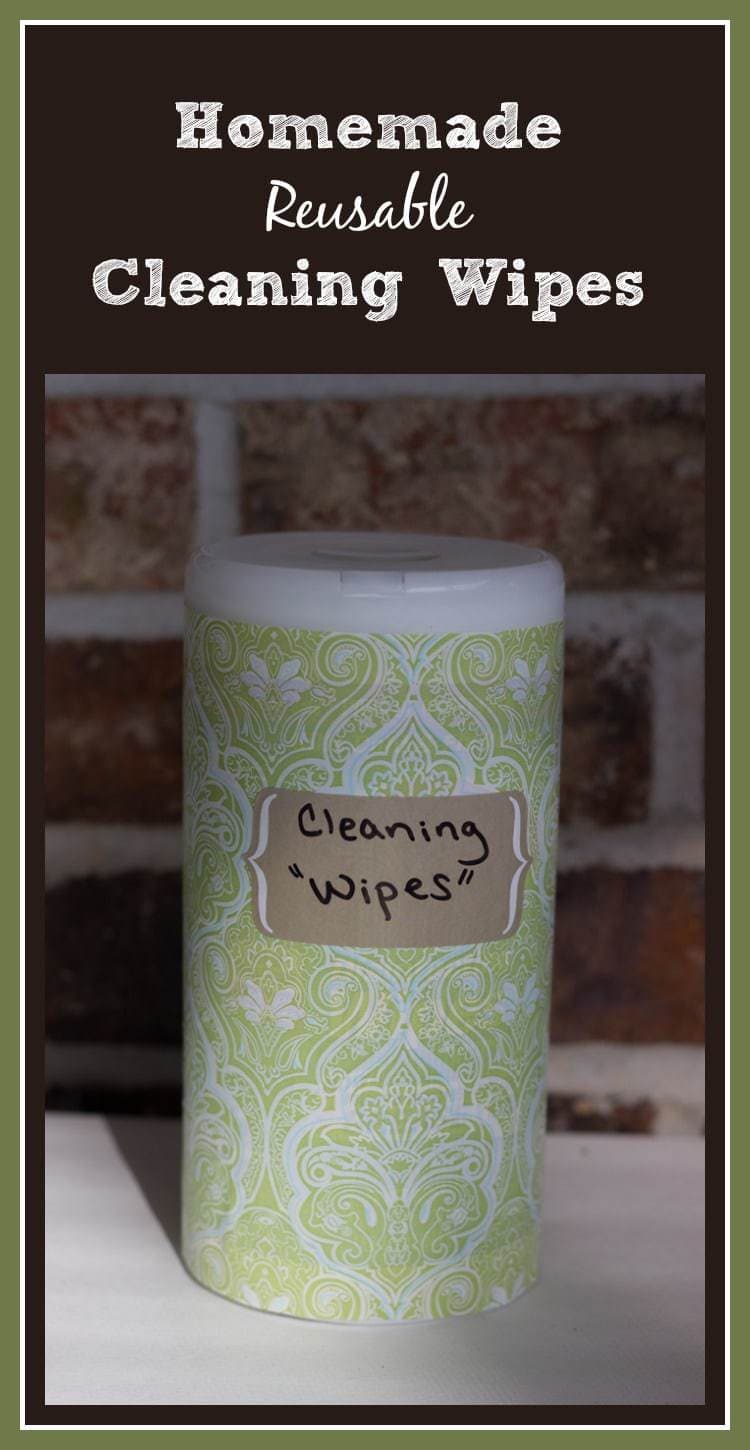 Though I know that mixing a bucket of cleaning solution and using a rag doesn't take that much time, I do feel that little conveniences can cut down on total cleaning time making the whole process more efficient. And I hate lugging around a full bucket or having to walk back and forth to the sink to wring out my rag.
Remember that my goal is homemaking smarter not harder, so that I have more time to spend doing crafts or spending time with my family.
There are two versions I am making for my reusable cleaning wipes.
I have an extra strength version to use as I deep clean using store bought cleaning solution.
Reusable Disinfecting and Cleaning Wipes
Recycled Wipes Container
Store Bought Cleaning Solution (I prefer Lysol All purpose cleaner)
Contact Paper (optional)
Instructions
Stuff the rags in the old wipes container.
Mixed 2 cups of hot water with 1 cup of cleaning solution.
Pour over rags until you reach your desired amount of "wetness."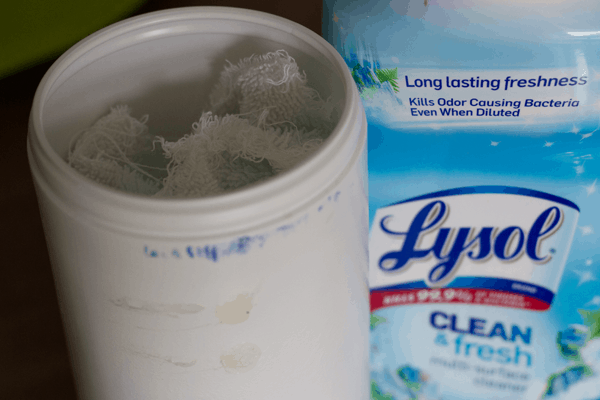 Use as needed!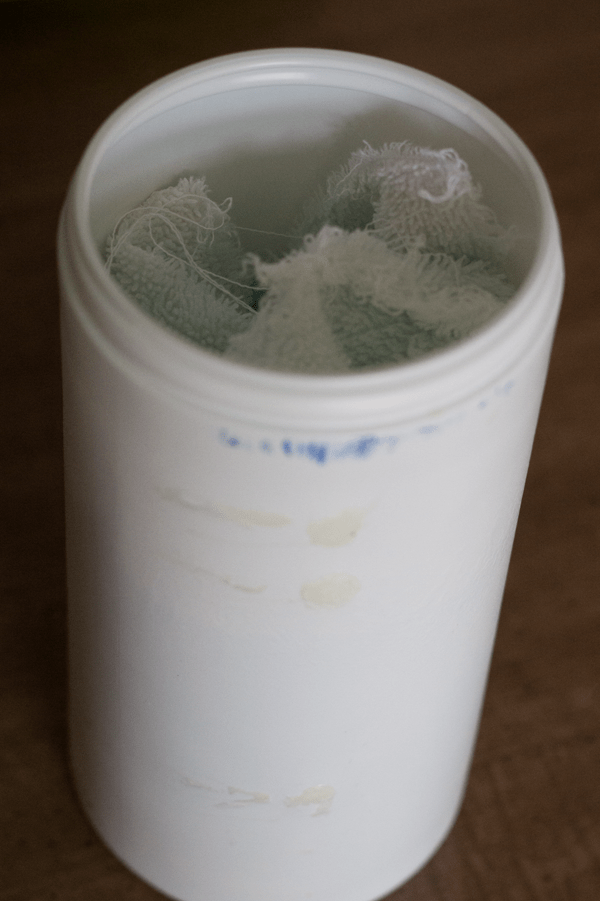 Homemade Natural Cleaning Solution option
1 Cup of Vinegar
four drops of tea tree oil
1 cup hot water
a squirt (after mixing everything else) of Blue Dawn or castile soap
*Note: Dawn should go last or you will have a bubble catastrophe
Pour over the rags in the container
I had leftover contact paper from my linen closet reorganization and wrapped my wipes container to make it look pretty 🙂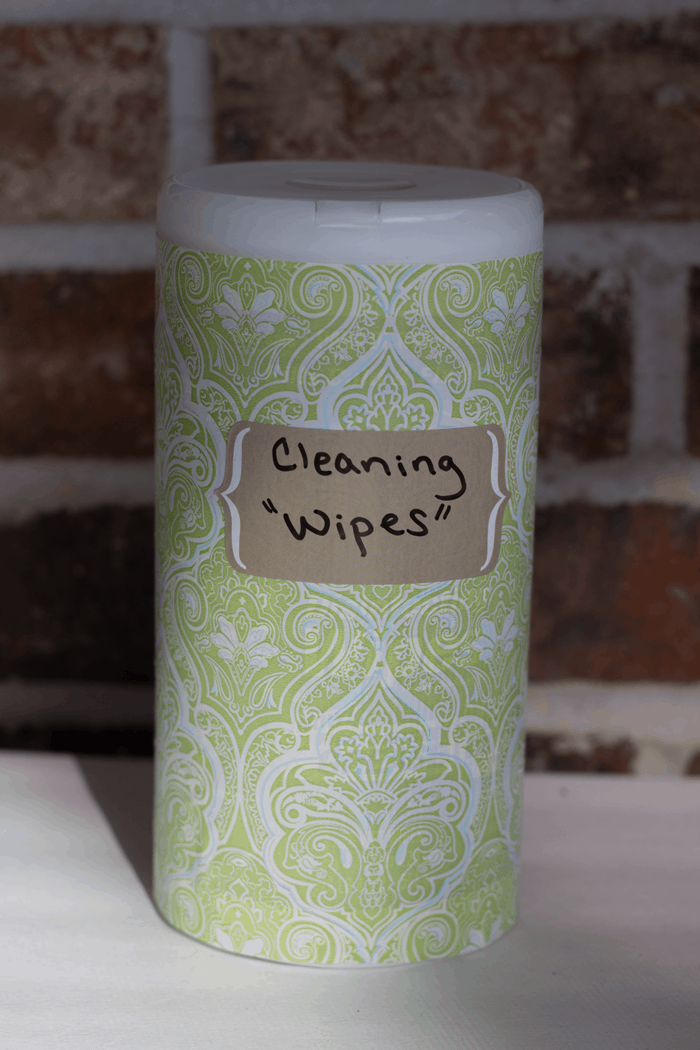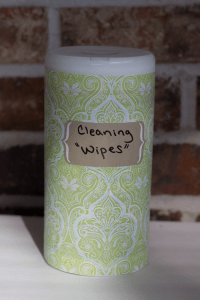 To aid in efficient laundering of the used cleaning wipes, I bought a cheap small garbage can from the dollar store that I have on top of the dryer.
When done with the wipes I just toss them in the small garbage can. Once filled, I wash them all at once and make a new batch of wipes.
When I am done with my fall cleaning and decluttering project I will make these wipes with the above solutions but using half a roll of paper towels, in similar fashion that I use in my homemade flushable wipes recipe.  But, right now I need something a little sturdier to clean up with this fall I try to change my horrible housewife ways.
Follow Gym. Craft. Laundry.'s board Cleaning and DIY homemaking on Pinterest.


Looking for more of my Horrible Housewife confessions and tips? Click here