This shop has been compensated by Collective Bias, Inc. and its advertiser. All opinions are mine alone. Affiliate links are included.#MyMederma #CollectiveBias
Did you have a birth plan when you had your first child? Were you positive that you were going to have a natural birth? I have a confession, one of the happiest moments in my life was when my OB said, "It looks like you need an emergency C-section."
Seriously, I think my smile lit up the entire block…even though it was about 3am at the time. I was in immense pain. When I was pregnant a friend told me how her epidural ran out before the worst of the pain hit her. I was terrified that would happen to me so I held off on the epidural as long as possible. Finally, my doctor looked me in the eye and asked, "Why are you waiting? We talked about the epidural a while ago?"
When I told her my reason for holding off, she laughed and said, "If it wears off, we'll just give you more." Needless to say, I stopped waiting.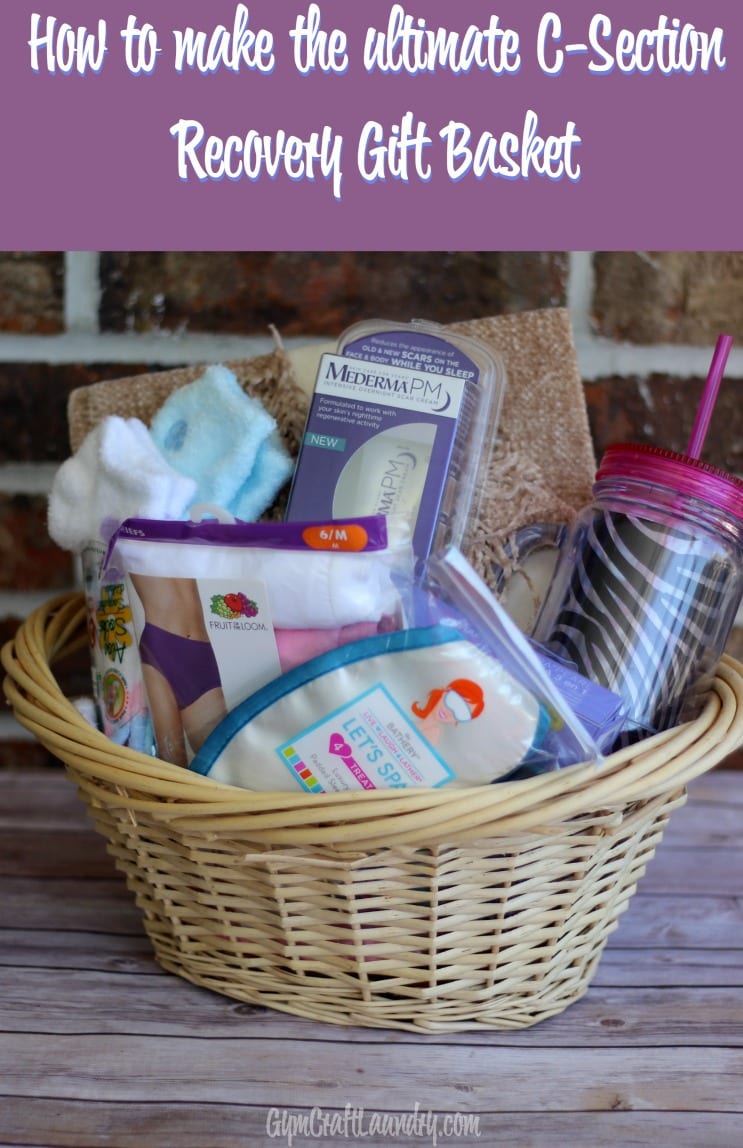 I had been in active labor since 9:00 pm when my water broke as we were leaving Blockbuster. The pain was intense and here I was stubbornly refusing the epidural.
I never dilated past 1 centimeter–with either pregnancy.
To be fair, I made it through an appendectomy, gall bladder surgery, and an exploratory surgery of my abdomen so I might have been a smidge more comfortable with the idea of surgery than most women would be.
But for someone who  wasn't expecting a Cesarean, the post surgery recovery is no joke. This may have been just another doctor digging around in my guts, but instead of resting in bed being waited on hand and foot afterwards, there was this little colicky baby that needed me.
And I wanted to be there for that little pork chop.
Baby showers and new baby gifts tend to focus on the baby. As with my get well kit for moms and my "hidden compartment" floral arrangement for moms, I like to give gifts that focus on the mama. My husband likes to tell the kids, "If Mommy gets sick, we're in trouble." That is because Moms make sure everyone else is taken care of.
How to make a Post C-Section Gift Basket that the mama will love.
Pick a basket that can be used by the new mom after she unpacks it! I liked this small basket because it would be perfect for storing baby towels, baby toys, or clothes in.
Gather your gifts.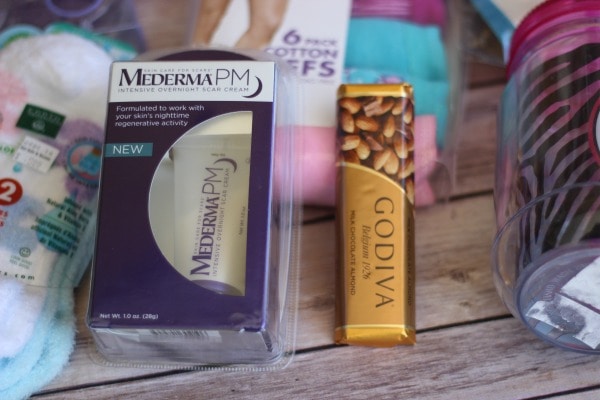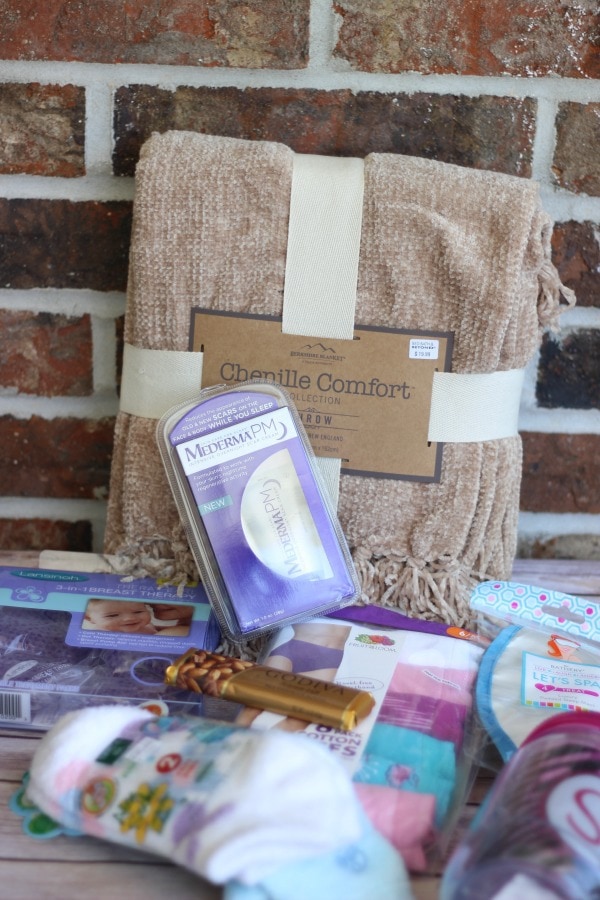 Cute beverage container — Swelling is normal post c-section. Drinking plenty of water will help a new mom flush out the medications and the extra fluid from the surgery.
Comfy throw — It is important that the new mom put up their legs and rest during the day. A nice comfortable throw blanket is perfect for keeping mom warm while nursing.
Sleeping Mask —  I won't lie. This gift recipient won't be getting much sleep for the next five years or so. That is why it is important that she is able to get comfortable and fall asleep right away when she can.
Gel packs for breast relief — It can hurt when milk comes in. When you add that to the pain of having your belly cut open and sewn back together, every little bit of relief counts. I also would suggest a postpartum support recovery girdle. I didn't wear mine as often as I should have, and I regret it.
Godiva — A must have after a stressful delivery.
"Granny Panties" — I sent my husband to the store to get me some after I got released from the hospital. All of my underwear irritated my healing C-section wound. I told him to get the highest waistband possible. He ended up asking a store clerk to help him find the "right Granny Panties!"  Trust me, she'll thank you (after she gives you a weird look!)
Mederma Advanced Scar Gel  or Mederma PM  — Mederma Advanced Scar Gel helped me minimize the appearance of my c-section scar and the scars from my other surgeries.
Arrange the items in the basket and you have an easy gift to drop off on the new mom's doorstep or hand to her (with a cooked meal!)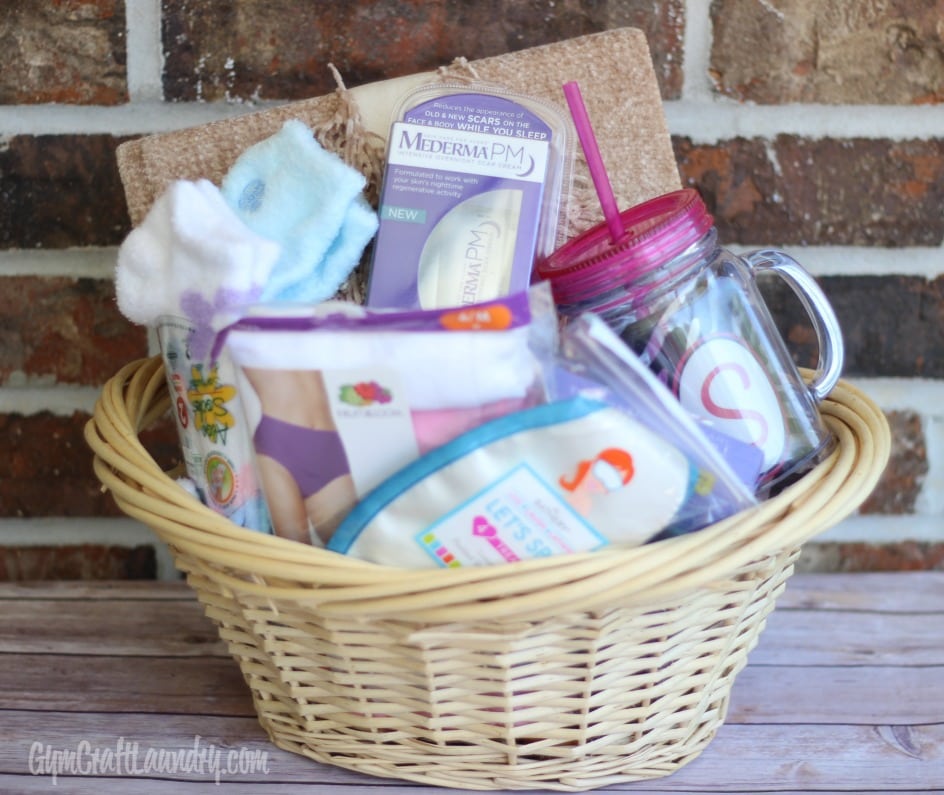 Did you have a cesarean? What would you add to the basket?
More resources:
5 things every c-section mama needs
More section recovery gift ideas
The weird way I overcame nipple confusion
(Visited 7,146 times, 38 visits today)