easy halloween snacks
to quick and fun crafts leading up to the big day. Everyone
loves
our
Spooky Rice Krispy Treat Skeletons
.
But not everyone has the [easyazon_link identifier="B01M696STS" locale="US" tag="scrugcorne-20″]gingerbread man cookie cutter[/easyazon_link] or the time to go out and get them. There is a solution, my friends–skip the cookie cutter and make these ghosts instead.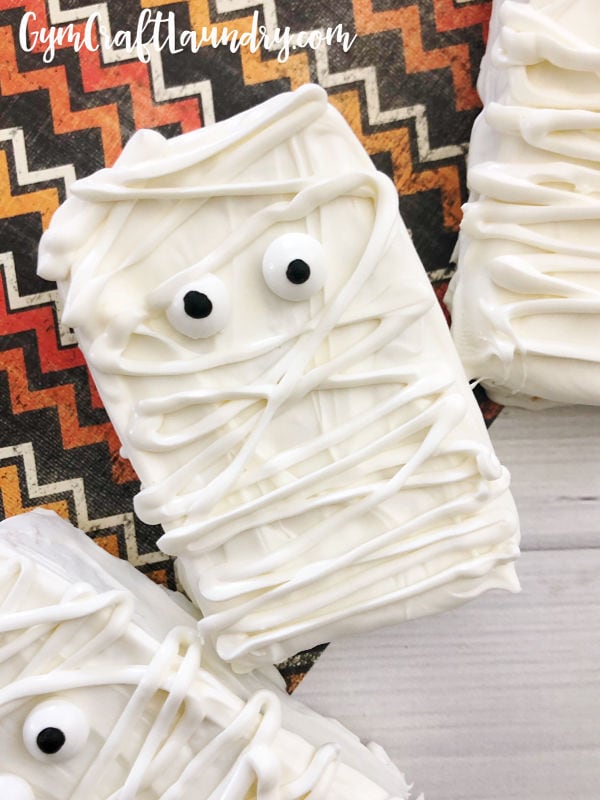 Easy Halloween Snacks: Spooky Rice Crispy Treat Mummy
Ingredients
10 oz bag [easyazon_link identifier="B017UWZRW6″ locale="US" tag="scrugcorne-20″]miniature marshmallows[/easyazon_link]
6 cups [easyazon_link identifier="B01MQSKPZZ" locale="US" tag="scrugcorne-20″]Rice Krispies cereal[/easyazon_link]
3 tablespoons softened butter
2-12 oz bags [easyazon_link identifier="B077H2W385″ locale="US" tag="scrugcorne-20″]Wilton bright white chocolate candy melts[/easyazon_link]
[easyazon_link identifier="B00IF8B3OG" locale="US" tag="scrugcorne-20″]Candy eyes[/easyazon_link]
Decorating bag
Large microwave safe bowl
Spoon
Directions
1. In a large bowl, combine your marshmallows and butter and heat in the microwave for 1-2 minutes. Then mix with the spoon.
2. Add in your Rice Krispies cereal until your cereal is evenly covered with the marshmallow mixture.
3. Grease a 9×13″ baking pan and press your marshmallow mixture into your pan firmly.
4. Let the mixture set for a few hours. Then cut into small rectangles.
5. In a large microwave safe bowl, heat your candy melts on 50% power for 4 to 5 minutes, stirring every 30 seconds until melted.
6. Lay out a piece of parchment paper and carefully dunk the top of each Rice Krispies treat into your melted chocolate and smooth the chocolate on top and on the sides.
7. Transfer to the freezer for 15 minutes, fill up a decorating bag with the remaining chocolate and cut a small tip off the end of the bag.
8. Dab a small amount of melted chocolate on the back of two candy eyes and carefully press them onto your white chocolate covered rice crispy treat towards the top half.
9. Use your decorating bag to draw several lines back-and-forth across the top of your Rice Krispies treat, let harden and enjoy!
If your kids love Halloween as much as mine do, this is a great easy Halloween treat. It looks like it took way more effort on your part than it did, right?
For a Halloween party, I would make the skeletons, these mummies, some frankensteins…the sky is the limit! Dress up the table with fake spider webs and fun Halloween platters.
For more Easy Halloween Recipes:
Easy Halloween Ghost Fudge Covered Graham Cookies
25 Easy Halloween Party Snacks
3 Ways to Get Rid of Leftover Halloween Candy

Halloween has to be the most fun holiday. The sweets and decorations make it an event that kids look forward to for months. And the creative possibilities can't be beat! We do everything from