Valentine's Day is one of those holidays that has become more of a "thing" over the last few years. I blame Pinterest!
Granted we don't celebrate Valentine's Day as a family.
We do the cards and the candy for class, but otherwise, it's a normal day in our house.
I do try to make little treats near Valentine's Day because the kids get a kick out of it. We've done Valentine's popcorn treats and played in a pillow fort.
The kids also enjoy our different cheerio balls recipes.
Peanut Butter Cheerio Balls are an easy and healthy after school treat.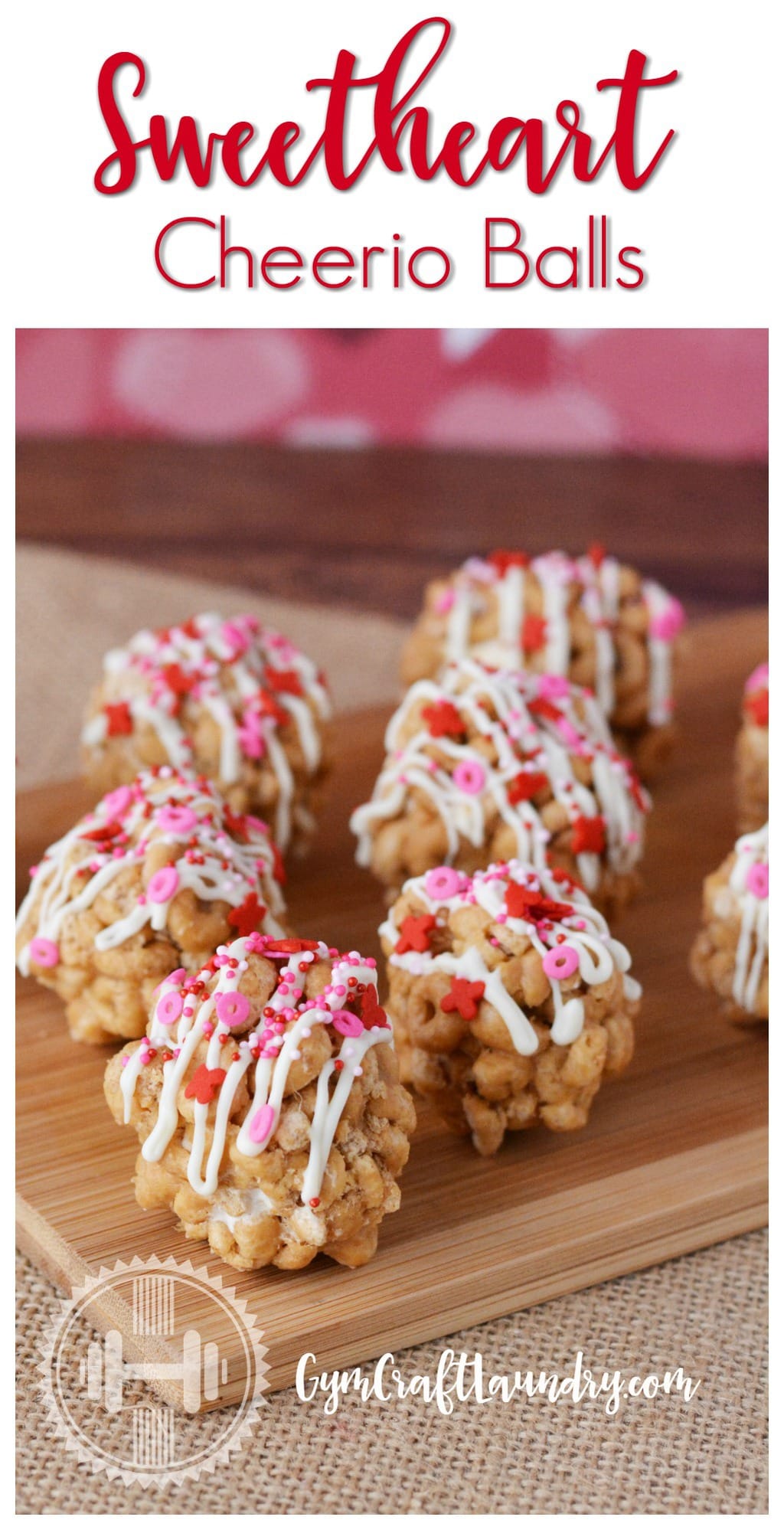 Peanut Butter Cheerio Balls for your Sweetheart 
Ingredients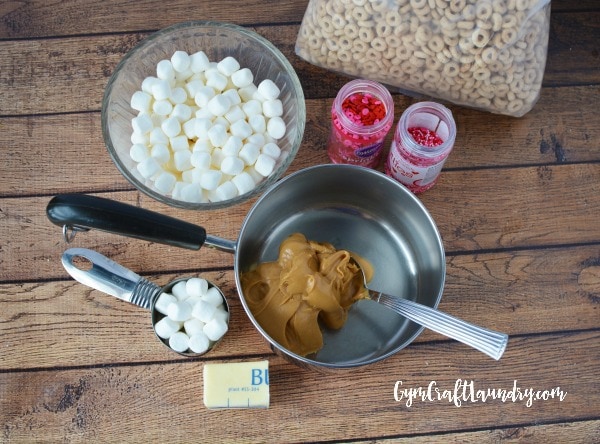 1/2 cup peanut butter or almond butter
5 cups Cheerios
3 TBL Butter
1/4 c almond pieces (optional)
dark baking chocolate (optional)
1/2 10 oz bag mini marshmallows and 1/2 c marshmallows set aside
2 TBL white chocolate chips
Valentine's sprinkles and XoXo sprinkles
Directions
Heat butter on medium heat until melted.
Add the nut butter to the melted butter. Add 1/2 bag of marshmallows and stir constantly until melted.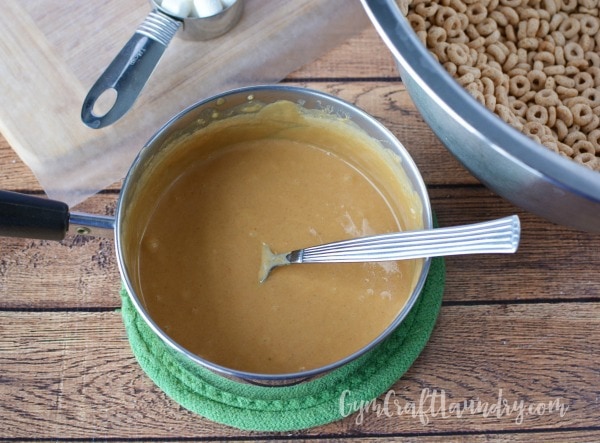 Turn off heat.
Add the cheerios and remaining marshmallows.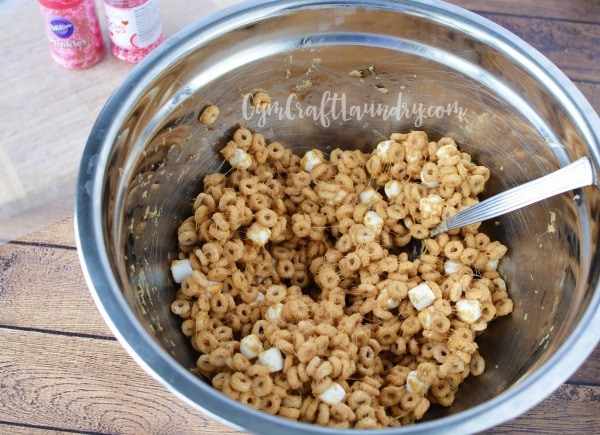 Stir, baby, stir!
Spray hands with cooking spray or rub with coconut oil to make rolling balls easier.
Roll mixture into balls.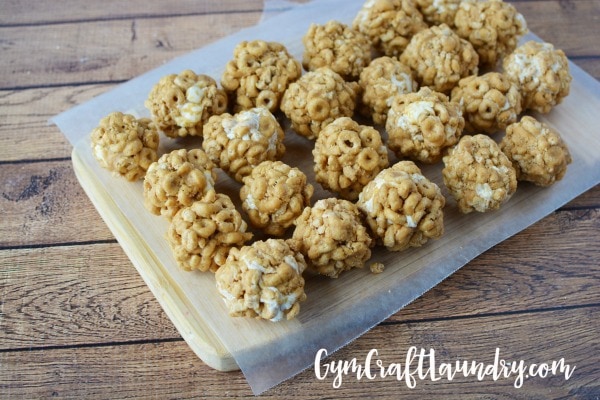 Place white chocolate chips into a plastic zip top bag but leave bag open. Microwave 30 seconds, knead, and return to microwave in 15-second intervals, kneading after each time. When completely melted, seal bag and snip.
When completely melted, seal bag and snip a corner of the bag. Drizzle melted chocolate on a few balls, about 3, and sprinkle with sprinkles before they harden. Melt chocolate again if needed and drizzle on another few balls.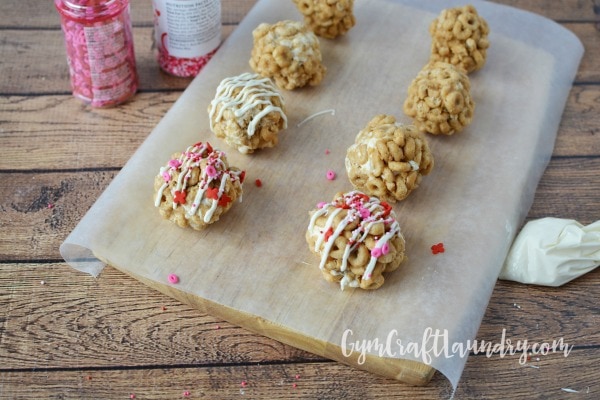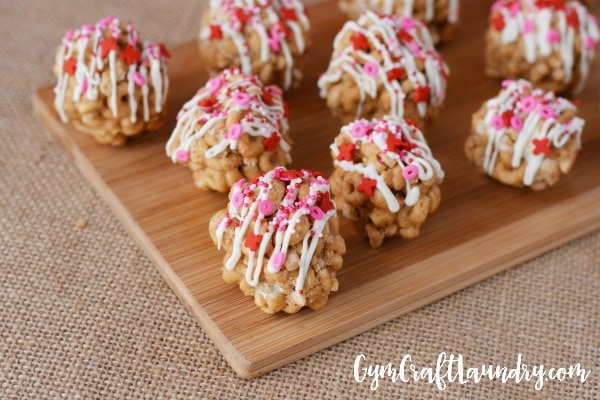 There you have it! A sweet Valentine's Peanut Butter Cheerio Balls treat!
(Visited 220 times, 1 visits today)