I didn't sign my kids up for a bunch of activities this summer.  I am also not posting as much on the blog over the summer as I normally do.  The reason is simple.  Summertime is when I get to relax and enjoy life with my family.  As I child I remember long summer days doing what I love most–reading.
Now that Pork Chop and Pea are both able to read unassisted for the most part, my goal is to encourage them both to view reading as enjoyable rather than as work. There are still books that we read together as a family. Our favorites are the SkippyJon Jones books (affiliate link for your shopping convenience).
However, there is peace and relaxing solitude in escaping into a book by yourself.  I really want them to find that contentment this summer.
So for this week's Family Fun Friday features, I picked mostly articles with book tips and suggestions.  I did pick a couple that focused on activities because you can't just read about experiences, you have to go out and experience things too!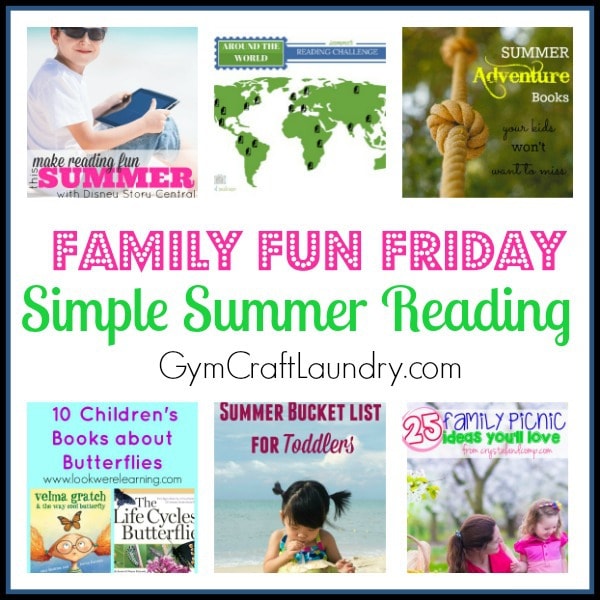 Amber of From Abcs to Acts shows us how to make reading fun this summer with Disney Story Central.  I think it's clear that we live in a house of Disney lovers around here!
Stuffed Suitcase shares a Read Around the World Summer Reading Challenge.  What a great way to introduce your kids to other countries and cultures around the globe!
Ready for more adventure? Joy in my kitchen shares a few kid-tested Summer Adventure Books that your kids won't want to miss.
My kids love to visit the butterfly gardens in the summer.  If you have a child fascinated with butterflies visit my cohost, Selena's blog Look We're Learning for 10 Children's Books about Butterflies!
Toddlers may not be interested in a reading packed summer but ABC Creative Learning has a Bucket List that they are sure to enjoy.
Who says reading has to be done inside?  I plan on picking one of these 25 Family Picnic Ideas you'll love and lugging the kids and their books outside for quiet time!
Thank you to all the fabulous bloggers that shared their family fun ideas with us this week!
Onto the Family Fun Friday Link Party!
Family Fun Friday is a weekly link party where bloggers share their family oriented crafts,
recipes
, thoughts, homeschool tips and activities.  Each week each co-host picks SIX features!  Link up your
best
posts for the chance of being featured on five blogs.  We have a great community here at Family Fun Friday with over 200 posts linked up each week.  Moms take a minute to surf around and see
what is
linked.  I'm sure you'll find something fabulous.
Meet our Family Fun Friday hostesses:
Check out these fun features from the cohosts!
This week Selena is featuring simple summer crafts.  Be sure to check out these adorable links on Look We're Learning!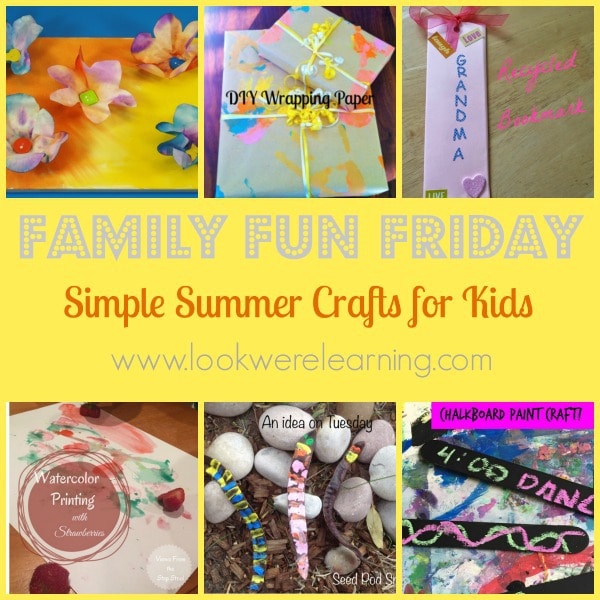 This week Britta has some yummy summer salads picked out!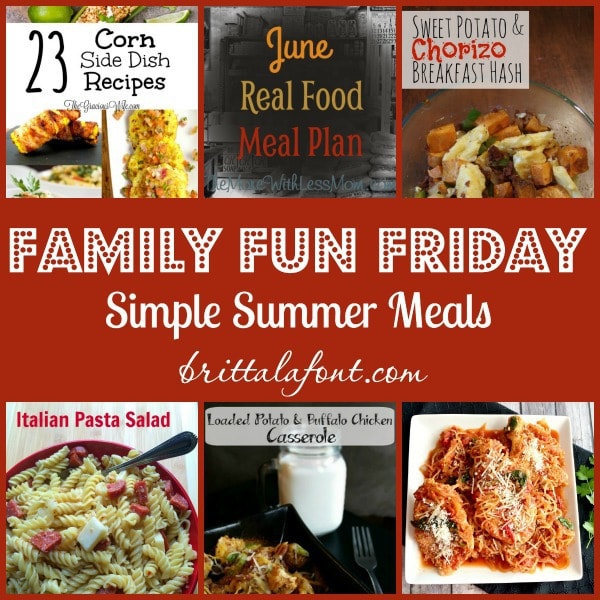 If you enjoy the features on Family Fun Friday please leave me a comment, I would love to hear from you! If you see things that you like here – please PIN them on Pinterest! If you PIN these lists it will help this blogging party grow. To PIN a specific blogger's post please click through and pin directly from their site. If you're a mom keep reading because we have some wonderful fun ideas to inspire you with your little ones and family. My blogging friends are linking up craft ideas, fun in the kitchen, preschool & homeschool ideas, and way