I was a hiring manager for over ten years. What determined whether or not I would hire someone, specifically a SAHM looking to reenter the workforce, into our entry level position? For the most part the same disqualifiers would apply to everyone, moms included.
Inappropriate attire
Lackadaisical attitude
Failure to engage with the interviewer
Failure to meet the minimum skills required for the job
However there are a few things that I found that Stay at Home Mom's, in particular, would say and thus not get hired. You are interviewing for a job away from home because you need the income,  your kids are now old enough for you to return to the workforce, or because it is the best decision for your family or yourself.  Whatever reason you have for going back into the workforce, I want you to be as prepared as you can for the interview.
Motherhood is a rewarding full life job. It is arguably the most difficult job a person can ever have. That being said, it is also the job that can erodes a person's confidence like none other.
Lack of self confidence is the quickest way to disqualify yourself for a job.Tweet

If you don't think you are good enough for the job, why would the interviewer?
Think about it, many of us spend our days wondering if we are feeding our kids the right food, teaching them the right social skills, breast or bottle, ready for solids or not, did the baby have enough tummy time, is your child growing "normally,"etc and etc.  We mothers put so much pressure on ourselves because nothing is more important to us than the health and happiness of our children. We question everything. We weigh pros and cons. But most of us remain in a little bubble with far less adult interaction than we had prior to children. Our ability to communicate with big people may get a little rusty. (Am I the only one that has asked her husband if he "had to go potty?")
Never apologize for choosing to stay home with your children. NEVER.
Do not remind the interviewer umpteen times that your last outside employment was ten years ago.
It's on your resume. You will most likely be asked about it at the beginning of the interview. No need to keep saying, "well, ten years ago I was the top sales associate…"
This is the first in a series of post geared towards interviews tips for mom.  My post "So you're want going back to work?" is one of my most popular posts so I am going to elaborate on the points I touched on then.
Keep in mind that these tips are not meant for women reentering into specialized careers.  I don't know much about technical interviews though I might be able to convince my husband to write a post on them…yeah, probably not. These are general sales jobs or customer service job interview tips as my background is call center management.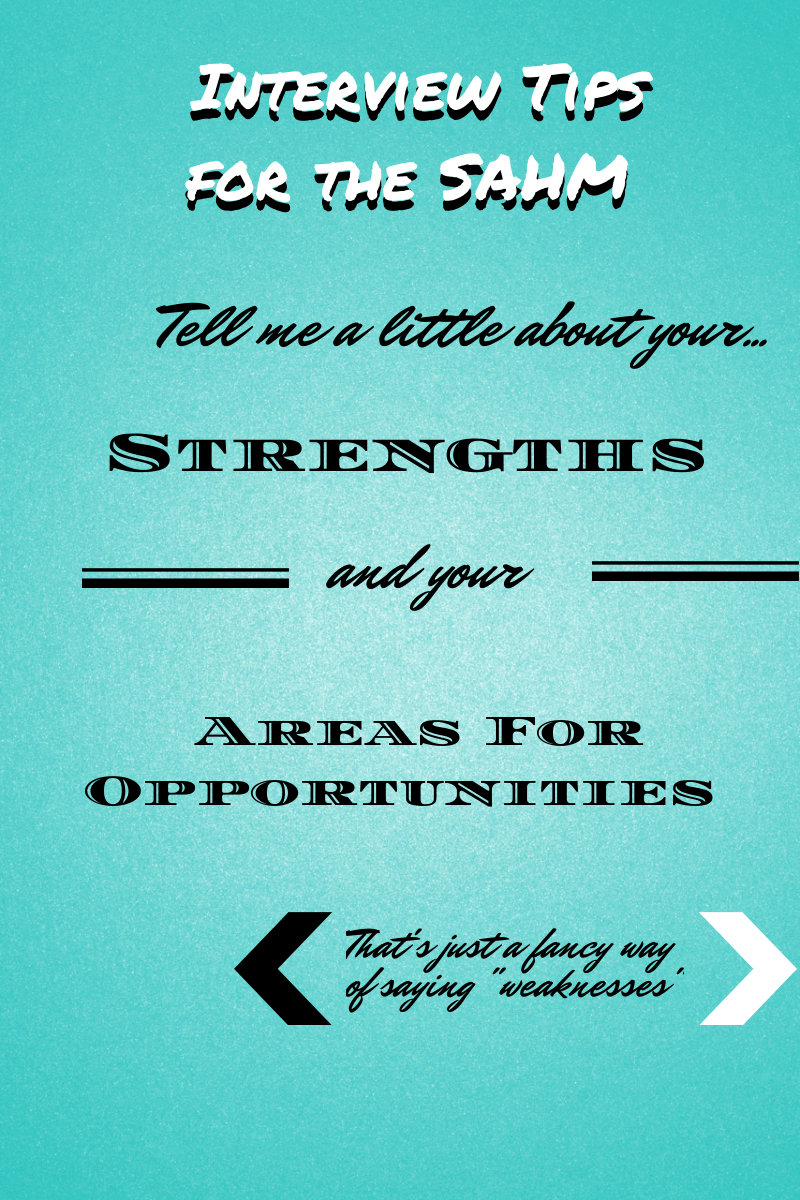 Interview Tips for SAHMS:
I loved this question as an interviewer.  "Give me an example of your strengths and an equal number of areas of opportunity."
Sometimes you are given a specific number by the interviewer. If so, stick to it. It shows that you are paying attention and can follow direction.
If you aren't given a specific number then it is a good practice to provide an equal number of weaknesses to strengths.
That means that you shouldn't say that you don't have any weaknesses.  Unless you are perfect in every way shape and form.  If that is the case, why are you even interviewing?  Shouldn't you be running for Emperor or something?
Everyone has an area for opportunity.  I, myself, am organizationally challenged.  It was even on my last review, though my former manager worded it differently.  He said that I still needed to focus on our goal of keeping my desk "orderly." In an interview I would give my weakness as, "I work very visually and like to have paper references handy.  My desk often looks like a paper explosion but that doesn't affect the accuracy or the timeliness of my work." (I wanted to say "BOOM!" right there but my sister specifically told me she unfollows bloggers who "boom" in their posts.)
"Weaknesses" that managers know are common with moms but shouldn't be given a reminder:
Your possibly poor attendance.  They get it.  Kids get sick. Moms have to take care of them.  But you don't want to remind the interviewer that you are concerned about your own attendance or punctuality.  Yes, I  have heard people say that their biggest weakness was their tardiness.  It might be, but I wouldn't fess up to that during an interview.
You "haven't worked" in years.  Because, really?  I bet you worked your tail off to get the rest of the family situated so you could get out of the door and to the interview on time.
Other Weaknesses I wouldn't mention:
I am very social and have gotten in trouble for not paying attention to the customer.  (yes, somebody once said that.)
I have a hard time working with other women.
I have a hard time working with men.
I can't understand computers.
Some of the most effective answers I have heard as weaknesses:
I take on too much work and have to be reminded to finish a task before volunteering for another.
I am a perfectionist so I focus too much on the details when I should be looking at the project as a whole.
I work very well on my own so it is sometimes outside of my comfort zone when I need to work with a partner.  (I was okay with this answer but another manager I worked with felt that the person was saying that she was not able to work with a team.  I think that being good on your own and uncomfortable with others doesn't necessarily make one a poor team player.)
My area for opportunity is my lack of current computer skills. Technology is always moving forward!  I am currently taking online training and watching tutorials so I will soon be up to speed.  (I loved this answer.  It shows initiative.)
Common Strengths:
I communicate effectively.
I am a natural salesperson.
I am goal oriented.
I am a perfectionist  (then the perfectionist usually will go on to say how it is also an area of opportunity.)
I'm an excellent multi-tasker.
I exceed every goal that my previous manager set for me.
The key is to put a positive spin on your area of opportunity.
What are some of strengths and weaknesses that have worked for you in interviews?  What interview tips for SAHMs would you want to share?