Between practices and games, coming up with quick meals that my family will actually enjoy and isn't just something unhealthy, can be tricky. I tend to just make the same things over because I know how to and I know everyone will eat them. So switching it up is exciting for everyone. All these dinner ideas for sports nights are simple and quick, but you can still sit down and enjoy eating as a family before a hectic night of sports!
Easy Dinner Ideas for Sports Nights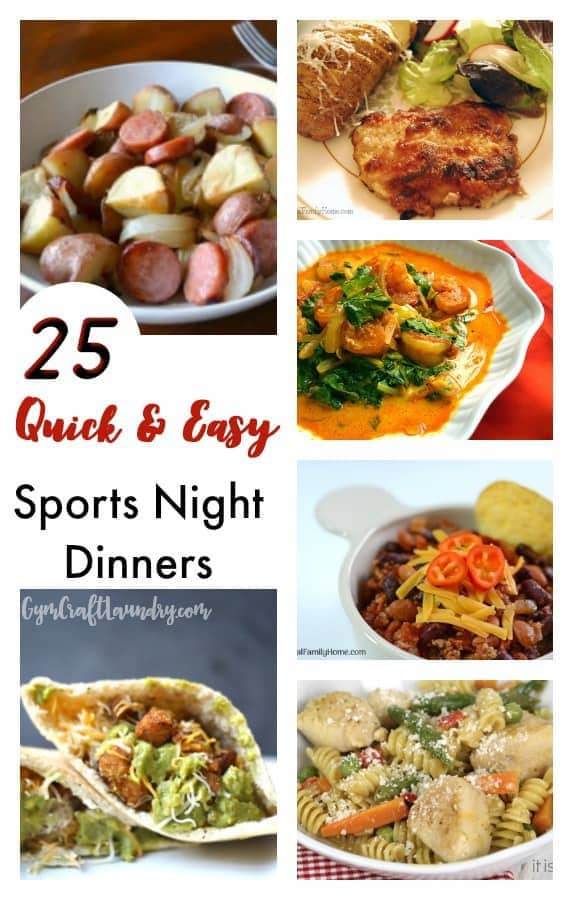 Making sure to get in the kitchen and prepare a good dinner for my family is important to me. And during sport seasons, it can be hard to find the time. So I believe in finding recipes like all of those listed below, to insure I can maintain that even with a crazy schedule and you can too!
This super easy and quick chicken pot pie looks delicious! Chicken pot pie is always a hit around here!
Creamy sausage and potatoes! Yummy!
These pan fried pork chops make for a quick and easy dinner!
This three cheese chicken florentine looks amazing!
Roasted broccoli and chicken. Quick, yummy and healthy!
This one pot taco skillet looks amazing and so easy to make!
Quick and easy meatball casserole!
Shrimp cooks so fast! We love these grilled ginger garlic shrimp skewers.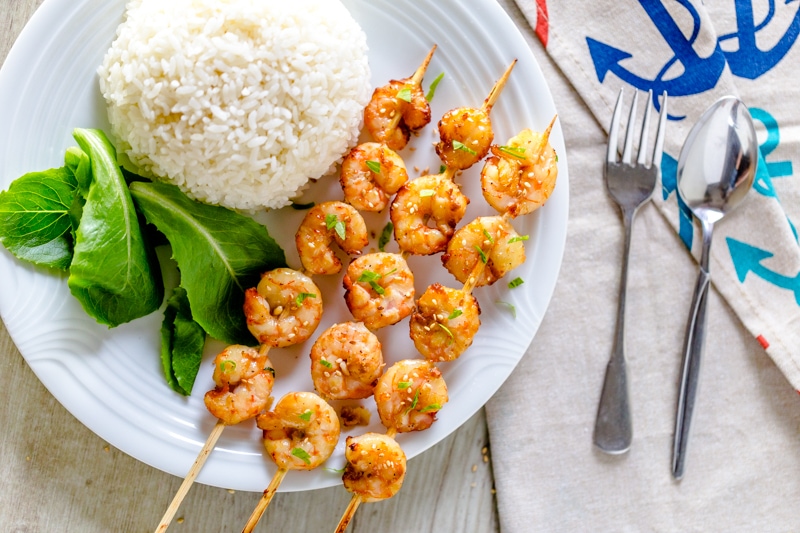 I'll definitely need to try this sausage tortellini skillet!
Instant pot spaghetti! Who doesn't love spaghetti?!
This shrimp and greens curry looks amazing and it's so easy!
Super easy one pot chicken veggie skillet!
Skillet chili, a great go-to!
Sausage onion and potato sheet pan dinner!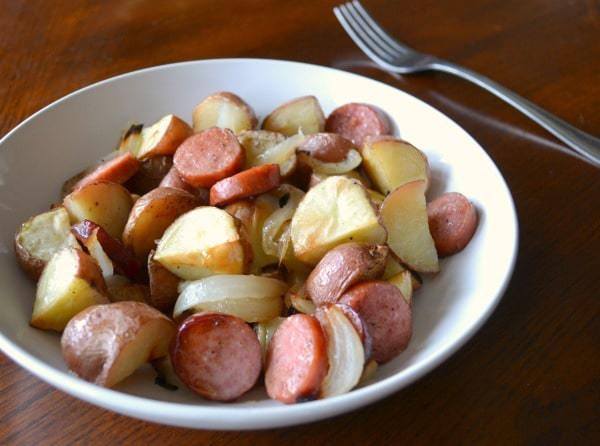 I love one pot dinners, and this broccoli mushroom pasta looks like a great one!
This balsamic chicken salad sandwich recipe looks like something I need to try!
Fruit and savory fried rice… clever name!
Mini turkey meatloaves are an easy freeze ahead meal.
One skillet beef and cabbage, super quick and easy!
This crockpot pierogi casserole looks so fun!
Light chicken and pasta is always a kid favorite.
Who doesn't love a 30 minute chicken pita recipe?
Definitely going to have to try this crunchy taco pie!
Super quick and easy ground beef casserole!
And of course we have sloppy joes on our menu too.
Hopefully you were able to find lots of new recipes to try out! I know how hard it can be, but it's definitely not impossible to make great meals even on sports nights. Let me know which ones you plan on trying and which ones work out for your family!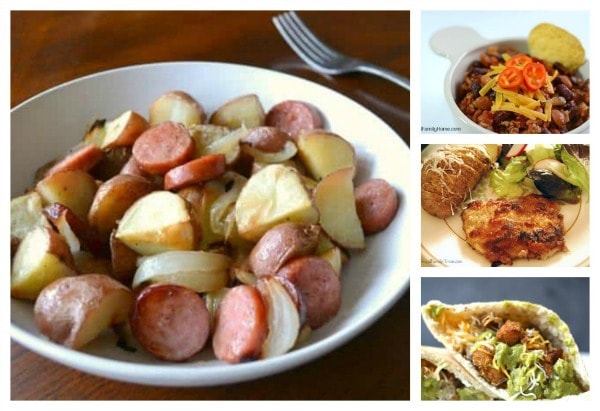 What is your go-to meal on sports nights?
I'd love to get even more ideas so leave me some suggestions! And don't forget to pin this so you can grab a recipe whenever you need one!
For more sports night meal ideas:
30 Super Quick Sports Night Dinner Ideas
30 Quick Sports Night Meals with Ground Beef
My popular Instant Pot Spaghetti Sauce