Did you know that sloppy joes are made out of unicorn meat? At least, that is what both of my kids thought for the longest time! So of course I had to put it on my weekly menu rotation. And because I am a busy sports mom (like most of you), I had to make it a lightning quick instant pot sloppy joes recipe, like my popular spaghetti sauce recipe.  Sometimes I think that my whole life is spent thinking up dinner ideas for sports nights, but it's the season of life I am in right now. And I wouldn't change it for the world.
My son asked us one day why I never make sloppy joes. He had a valid point. I distinctly remember my Dad making them for dinner all the time when I was a kid. I just never do. So of course my husband responded that it is hard to find "unicorn meat" and it's expensive. And our kids believed him…for years! We even showed them the proof when they asked….you can [easyazon_link identifier="B0089KZPNU" locale="US" tag="scrugcorne-20″]buy unicorn meat[/easyazon_link] on Amazon.
Lightning Quick Instant Pot Sloppy Joes Recipes

Ingredients:
(Make sure you check out Ibotta for rebates before you head to the grocery store! I earn a few bucks back from it each grocery shopping trip. If you prefer to order, Amazon Fresh has a free trial!)
1lb lean ground turkey or beef
1/2 cup chopped onion
1/2 cup chopped red pepper
1[easyazon_link identifier="B075SMF31X" locale="US" tag="scrugcorne-20″]can (8oz) tomato sauce[/easyazon_link]
1 tablespoon [easyazon_link identifier="B01GFPSAPA" locale="US" tag="scrugcorne-20″]brown sugar[/easyazon_link]
2 teaspoons chili powder[easyazon_link identifier="B001PQOAP4″ locale="US" tag="scrugcorne-20″]chili powder[/easyazon_link]
2 teaspoons [easyazon_link identifier="B000RYFQ44″ locale="US" tag="scrugcorne-20″]Worcestershire Sauce[/easyazon_link]
1 teaspoon [easyazon_link identifier="B00HPN6A86″ locale="US" tag="scrugcorne-20″]garlic salt[/easyazon_link]
[easyazon_link identifier="B018BD2RWQ" locale="US" tag="scrugcorne-20″]whole wheat hamburger buns[/easyazon_link]
Directions:
Place meat, onions and red pepper into the bottom of an instant pot. Using the sautee function, brown meat until no longer pink.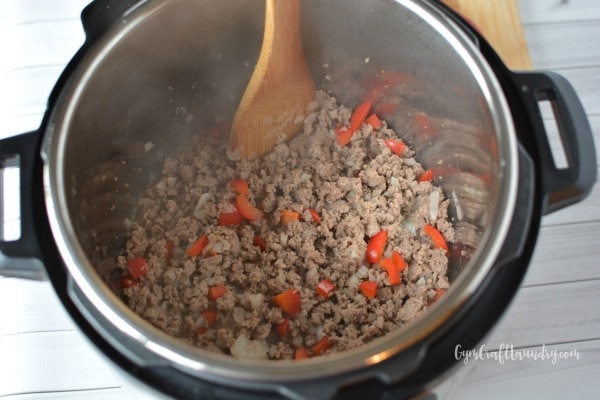 Add tomato sauce, brown sugar, chili powder, Worcestershire sauce and garlic salt to the instant pot. Stir to mix well and place the top on the pot.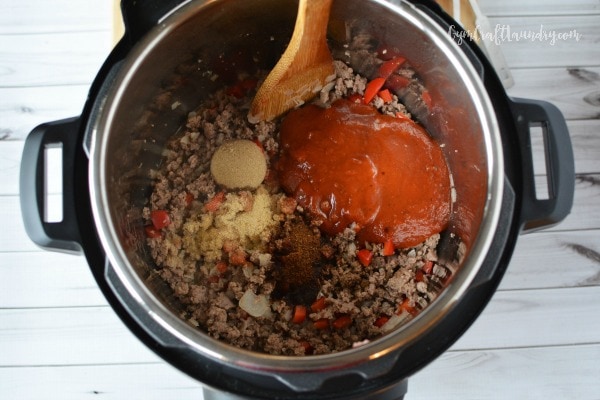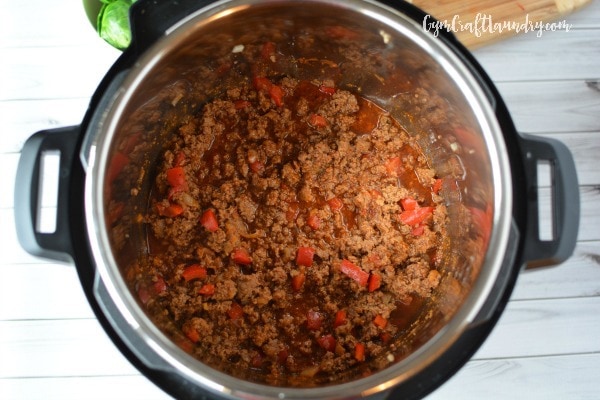 Close the instant pot and make sure the lid is sealed. Manually cook for 5 minutes.
When the timer beeps, do a quick release (I like to toss a kitchen towel over the vent to prevent sputtering) and open the pot. Stir and serve on hamburger buns with a side dish.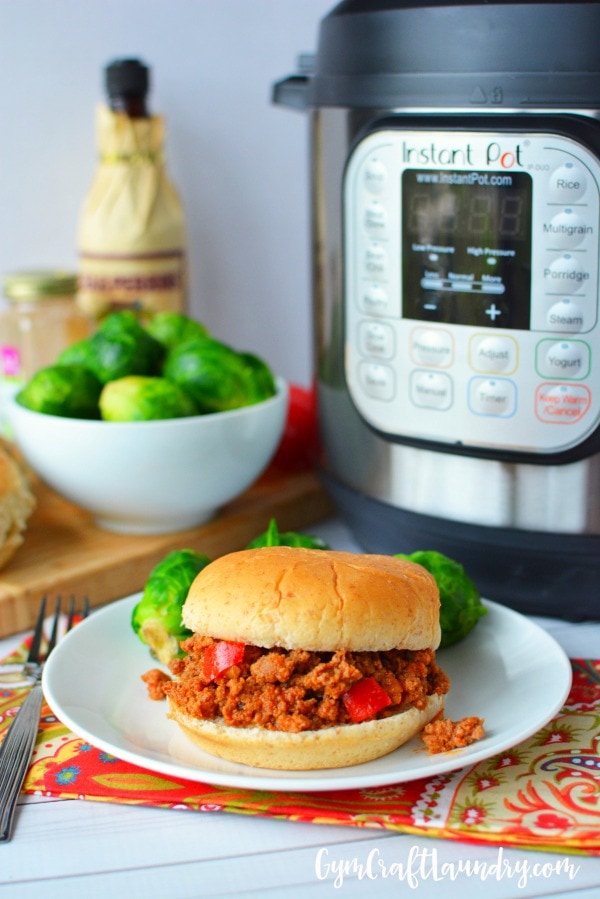 How easy is that! This meal is perfect for late sports practices or quick lunches during school break. We prioritize family meals and I'm always looking for quick dinner ideas so I can spend more time at the table rather than behind the stove.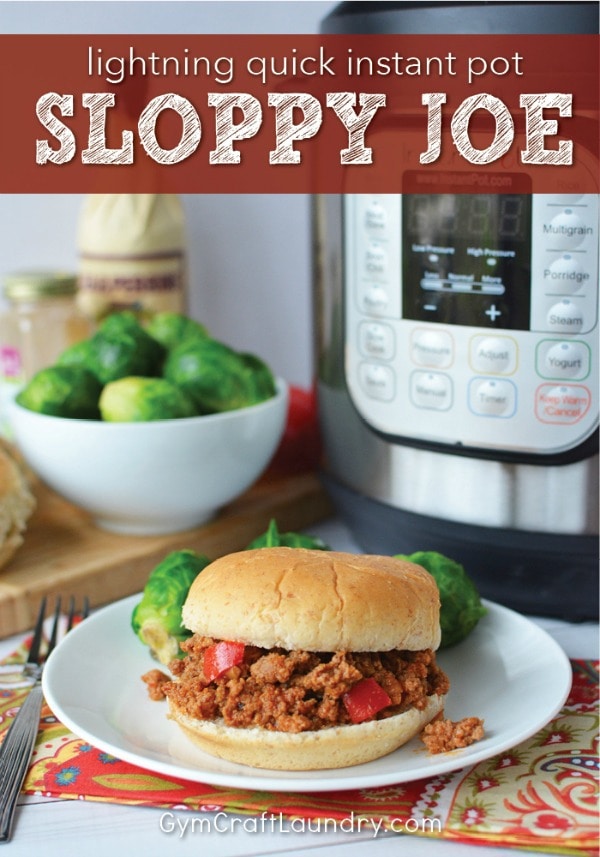 You might also like:
These Tips and Tricks for using your Instant Pot
This delicious turkey kale and rice instant pot recipe.
Lightning Quick Spaghetti Sauce
[amd-yrecipe-recipe:12]