Have you read the first post in my new series, "The horrible housewife?"  Well, lately I have been thinking a lot about the term "housewife."  I've only been a stay at home mom for ten months but some may think that almost a year is more than enough to get into a workable "housekeeping" routine.
It should be.
But one thing I didn't count on was how every time I would get into a good routine, everything would change.  At the beginning of the year, my youngest was only in school for a couple of hours.  I finally got into a routine of dropping both kids off, studying, picking them up, working out, cleaning etc.
Then school ended and summer chaos ensued.
School started and the routine started off great, then we went on vacation for a couple of weeks so the routine was again upended.
We have been back at the daily grind now for a couple of weeks and easing back into the routine.
So I guess the "routine" is really "routines for each season."  Since I am figuring out the cycles and floundering, I am a horrible housewife.
Before I left my job outside of the home, I never realized how different today's housewife is from the typical June Cleaver stereotype.
Today's housewives are ambitious, driven, multi-tasking, and multi-talented managers of their households.  They are bloggers, photographers, virtual assistants, entrepreneurs, personal trainers, volunteers…but most of all, they are busy.  They are busier than I ever imagined when I was working outside of my home.  You see, stay at home moms don't just watch soaps and eat bon bons all day.  Just like working moms don't all run out for drinks and pedicures every day on their lunch break.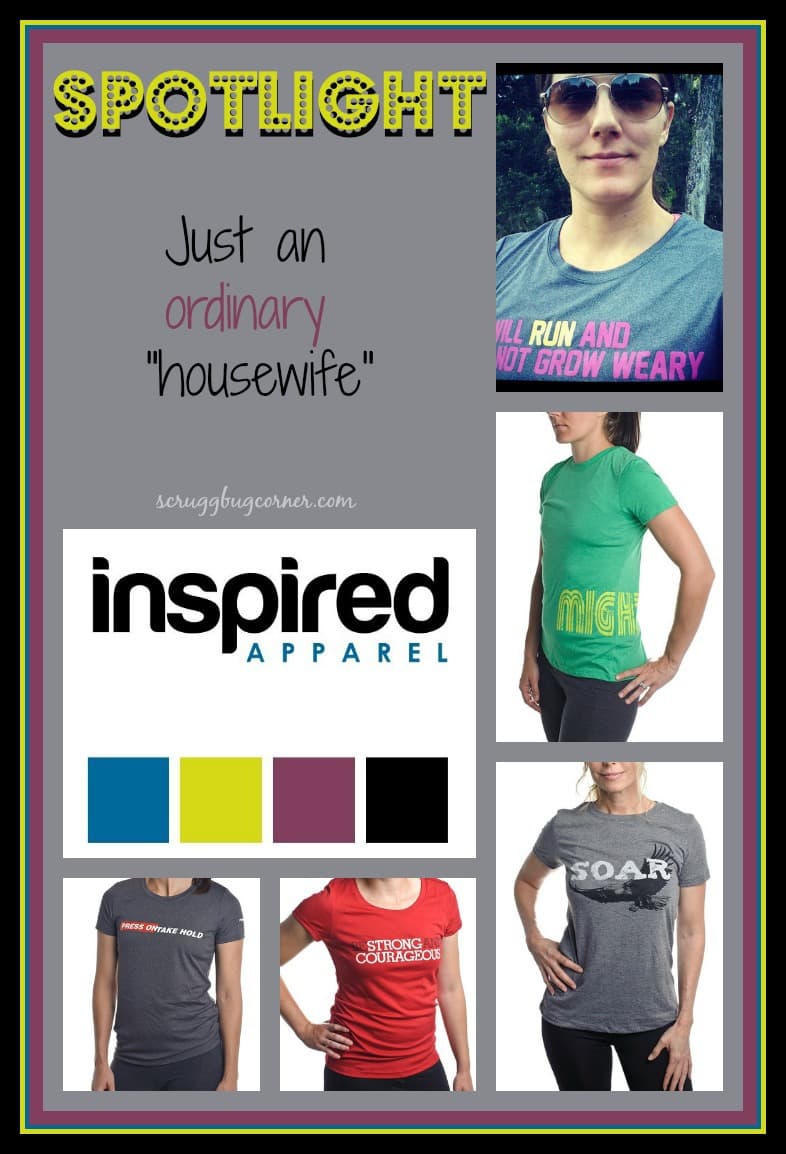 And I want to introduce you to another "housewife" that is more than just a housewife, Kory Cobb.  She's the mother of three, with a fourth on the way, and also the owner of Inspired Apparel.
Kory is very athletic and very spiritual.  She played Division 1 Volleyball at Alabama.  I met her at the YMCA, where our sons play soccer together and she coaches basketball.  Kory started her business after struggling to find athletic wear that she felt comfortable wearing.  Inspired apparel allows her to meld her love of God, sports, and art.  Her tee shirt designs are bold, modern, yet inspired by Scripture.
I have her "Mighty" shirt and I absolutely love it.  It is literally the softest tee shirt I have ever put on.  Ever.  The "Mighty" shirt is inspired by Ephesians 6:10, after Paul finishes describing how we should wear "the armor of God." He says "Be strong in the Lord and in His mighty power."  Soft and powerful at the same time.
So do me a favor and check out her website GetInspiredApparel.com and give her a like on Facebook.  If you are located in the Jacksonville area, Kory will be at the Town of Orange Park's Annual Fall Festival this weekend.  Come say Hi and check out–and feel–her apparel for yourselves!