It's almost Halloween and you decide that you want to decorate a little before the big day.  You can run to the store and spend a bunch of money or you can do some quick and easy Halloween crafts and have some fun at the same time.
I love cheap crafts that I can do with things that I have on hand.
This spooky ghost luminary is one of them.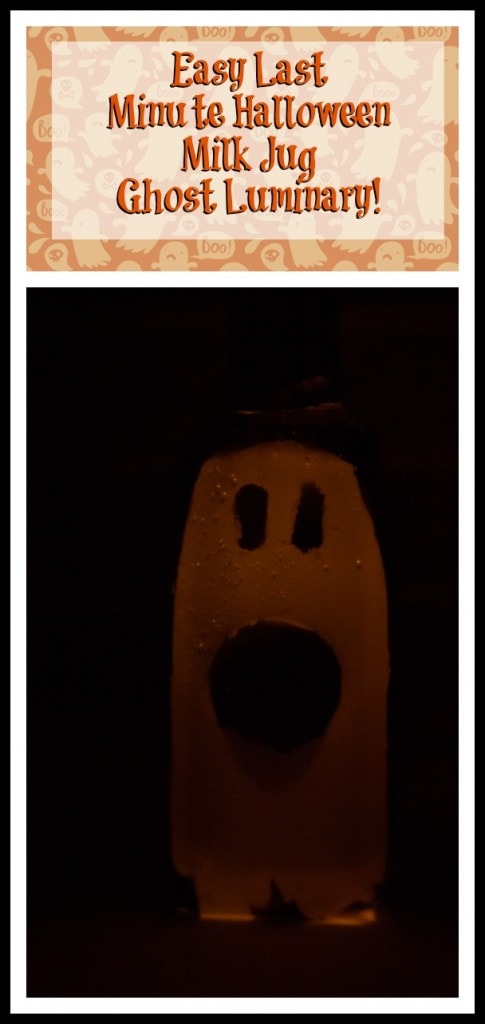 All you need is
empty milk jug (I used a half gallon jug)
painters tape
black spray paint
LED tea light from the dollar store
toilet paper roll
Cover the jug with the painter's tape where you want the ghost's body to be visible.  Make sure you leave eyes and a scary mouth uncovered, though! The kids helped covering the jug with the tape so it took longer than it could have but still wasn't very time consuming.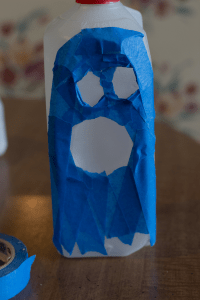 The next part I did myself–because kids and spray paint….  I had a can of $0.97 black spray paint on hand so I brought the jug outside and lightly spray painted the entire thing black.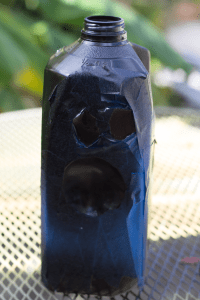 Once the paint was mostly dry, I peeled off the painter's tape.
Next I filled the jug with water.
I placed the LED tea light upside down over the top of the jug and turned it on.  The water diffuses the light and the water's movement gives the ghost an eerie appearance that the photograph just doesn't do a great job showing.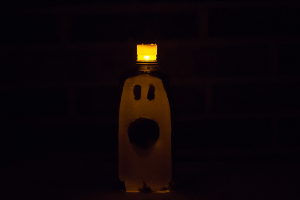 Next I took the empty toilet paper roll and put a cut in it length wise so it would fit over the LED tealight.  The toilet paper roll hides the visible light source so it looks like the ghost is floating.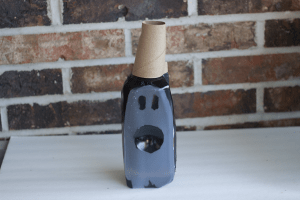 The way the kids did the tape on this one makes it look like a funny little man ghost with feet!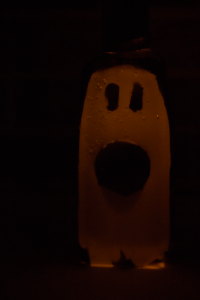 If you are doing a scary graveyard theme in your yard, this method would be a great way to do flames that look like they are moving!
Are you ready for Halloween?