Do you have an adorable daughter dressed in a cute leotard with a matching hair scrunchie that is giving gymnastics a try? I once did. Twelve years ago this fall my daughter started her first gymnastics classes. As I sat in the parent viewing area watching her first wobbly cartwheels and backbends, I had no idea what the next 9 years held for her.
Whether it is your daughter's first class or she has been asked to join the "pre-team," you may wonder what is ahead and how to be a gymnastics' mom. Read on for The Insider's Guide to Being a Gymnastics' Mom.

First Time Gym Mom
If your daughter is in a gymnastics' class for the first time, my prayer is that it is a positive experience for her. I pray that her coach is sweet, class is fun, and that she is not already planning to only try gymnastics and no other sports.
A first gymnastics class should be about exploring the sport, developing coordination and flexibility, and being comfortable in the gym. While you want her to learn the skills correctly and with good form, safety and fun are the most important aspects of class at this stage. She will know pretty quickly if she likes it. I would not push her to continue if she does not care for it.
Does your child have what it takes?
Gymnastics is a unique sport in that it starts young and some of the aptitude and love (or dislike) for it is evident very early. If your daughter is not flexible and does not wish to work at her flexibility, the road to many of the skills is going to be rough. If she is extremely fearful, it may not be for her or she may need to wait a year and try again.
Some girls, like my daughter, are blessed with flexibility and a lack of fear. They can do the splits with ease at four years old and backbends are not a challenge. They also have no fear of climbing or going upside down. They are the ones smiling and laughing all through class and come home tumbling all through the house. If your daughter is always upside down every time you find her, you may be in for many years of gymnastics practices, meets, fancy leotards, and (yikes) expense.
While you are sitting in the parent viewing area, you may see other girls leaping, tumbling, vaulting, and flying around the uneven bars. It may seem a long way off for your daughter as you watch her try to pull herself up a rope or kick over a backbend, but it may happen before you know it. You will know you are headed there when the class coach asks if your daughter could join the "pre-team."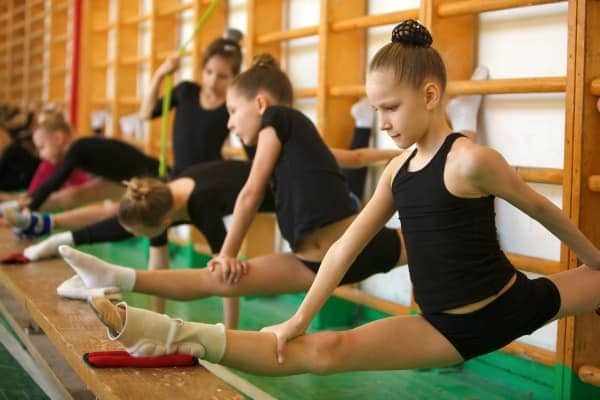 "Pre-Team" Gym Mom
"Pre-team" means different things at different gyms, but it usually involves at least 2 days a week of practice. It is when she stops going to "class" and starts going to "practice." She may participate in some "recreational" meets with a team leo, warm-ups, and bag. The leotard will usually be sleeveless. The long-sleeved leos are worn by the girls competing in the Junior Olympic USAG program.
Recreational meets will operate just like USA Gymnastics meets, where she will compete in each of the four events and receive medals and ribbons according to her scores. The events will be scored looser than USAG meets and every girl usually receives medals or ribbons. Pre-team is to get your daughter ready for the competition team.
What is expected from "gymnastics moms"
The number one job of the gymnastics mom headed to a meet is to figure out "gymnastics hair." For competition, hair has to be completely pulled out of her face. Get on Pinterest and search for "gymnastics hair." The "up-do" will involve braiding, hair gel, little tiny ponytail holders, and a scrunchie that matches her leotard. It used to take me an hour to do my daughter's hair. Yes, really!!! This can be a great time of mother/daughter patience training: for the daughter who has to learn to sit really still and not complain too much as you pull her hair really tight and for the mom who has to not only do the hair, but endure the wiggly, sometimes complaining daughter.
The number two job of the gymnastics mom is to make sure she has her grips! Grips are the things they wear on their hands/wrists during the bar routine. They are often left at the gym in a locker. At the last practice before a meet, ask, "do you have your grips?" Fortunately as the girls get older they will constantly ask each other if they have their grips.
After a season or two on the "pre-team," if your daughter is progressing and is still laughing and smiling in the gym and tumbling every free minute even when she is not in the gym, she will move on to the USAG team. USAG (www.usagym.org) is the governing body of the "junior olympic" program and the Olympic team. (Some girls skip the "pre-team" step and go straight to USAG.)
The first few years of gymnastics should be a fun time of exploring the sport. If she decides to continue and become a USAG gymnast, there will be many more adventures ahead. Stay tuned for the next post which will give the ins and outs of being a USAG Gymnastics Mom.
You may also like:
Meet our contributor! 
Laura is a mom to 3 kids and has been married for 26 years to her college sweetheart. Her oldest child left the nest in August 2014. She writes to encourage moms of teens and college kids on their journey from a full nest to an almost empty nest. (The nest is never REALLY empty.) She lives in Tulsa, OK and enjoys hanging out with her family (especially when they are all together), cheering on her daughter in her various activities, writing, reading, traveling, and even hosting bridal showers for her friend's kiddos who are taking an even further flight and getting married (yikes!).
If you are looking for some easy sports night dinners ideas, be sure to check out our quick sports night meal ideas!