Decoupage crafts are perfect for kids! What kid doesn't have fun glueing pieces of paper to stuff? Kids really can't mess up decoupaging the paper to the can.
Our neighbors put up their Halloween decorations. Their festive holiday decor always sparks my kids creativity. They wanted more Halloween decorations so we started brainstorming some fun crafts.
For a family that looks distinctly Filipino, our recent family history is rooted in US history. My grandfather was from the US territory of Guam. He served in the US Navy and fought in the Korean War. He and my Filipino grandmother had eight sons. (One son did not survive childhood and passed away as a child.) My father retired from the Air Force and then went into civil service and retired from that too. My husband and his entire family have all served or are currently serving in the military.
Many people don't realize that the Philippines, of all the Asian countries, has had 400 years of Western influence. During the World Wars and beyond, the United States military had several bases there which made huge impact on the culture of the island nation. A prime example of the US influence on the Filipino culture is the pervasive consumption of…Spam.
Seriously, Filipino's love Spam. Ask a Filipino if they've ever had Spam, rice, and eggs and I bet you they have–and they love it.
I usually have a relatively clean diet but every once in a while my Filipino roots take control of me and I end up having spam after midnight. Thank goodness this only happens a couple times a year to me.
Ha! I gave you a brief history lesson to explain why I had an empty Spam can for this craft.
Guilty conscience? Maybe. This stuff really is unhealthy.
The shape of the can is perfect for crafting. The blockish shape fit my idea for a Halloween decoupage craft project much better than a traditional tin can. I wanted to make a cute Halloween party decoration.
Easy Halloween Decoupage Kids Craft: Franken-cup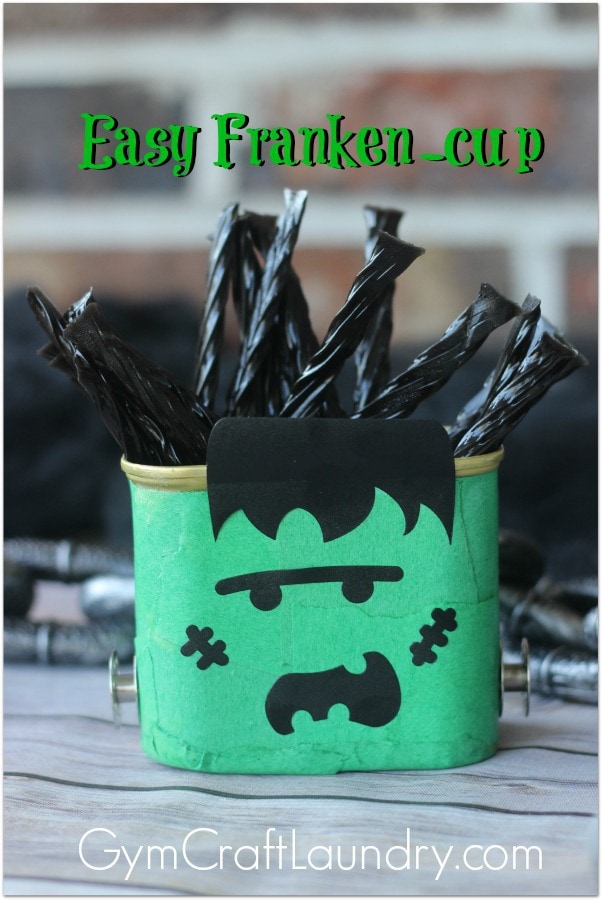 Affiliate links have been included for your shopping convenience.
Materials: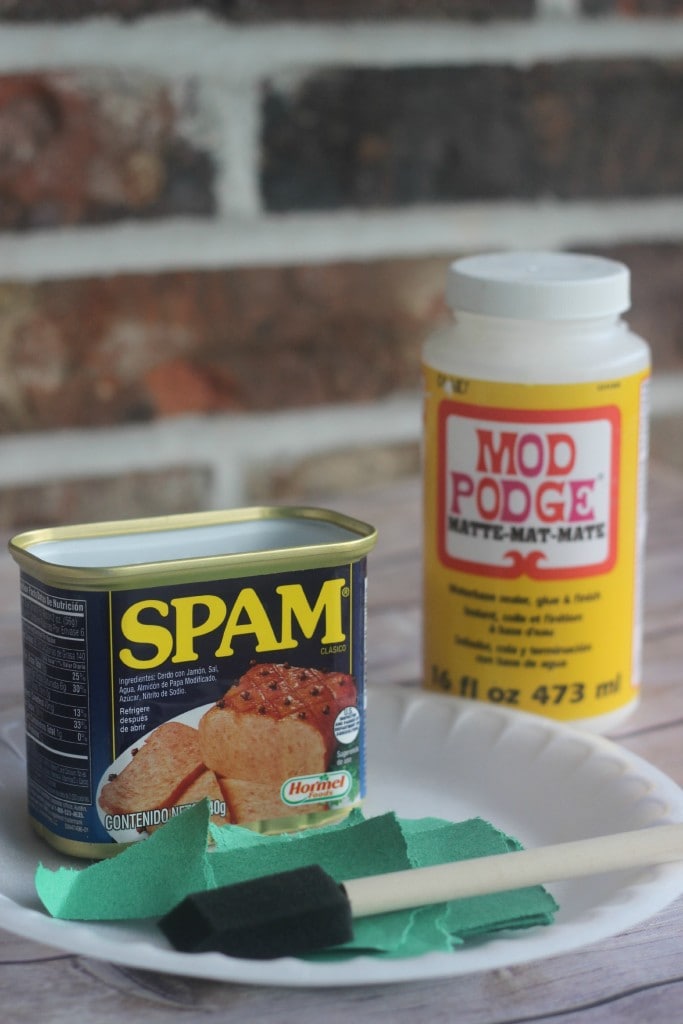 Clean spam can
Scraps of green construction paper
Foam brush
Two empty bobbins
superglue
Instructions:
Tear up pieces of green construction paper. I love how the glued together pieces of paper fit the Frankenstein story. The cobbled together monster face perfectly lends itself to the patchwork decoupage look.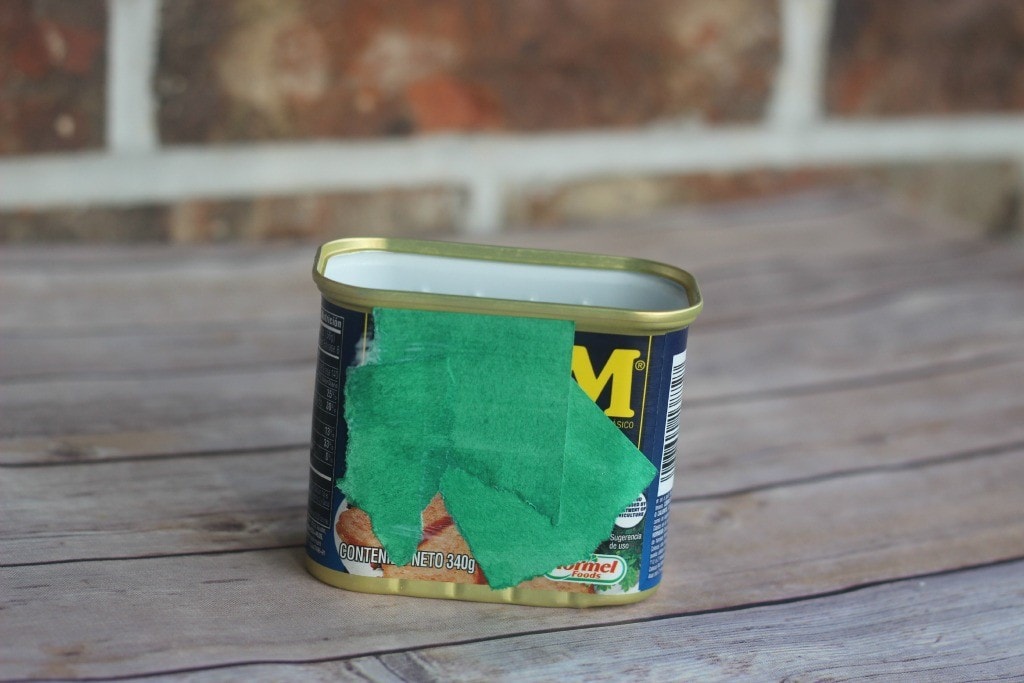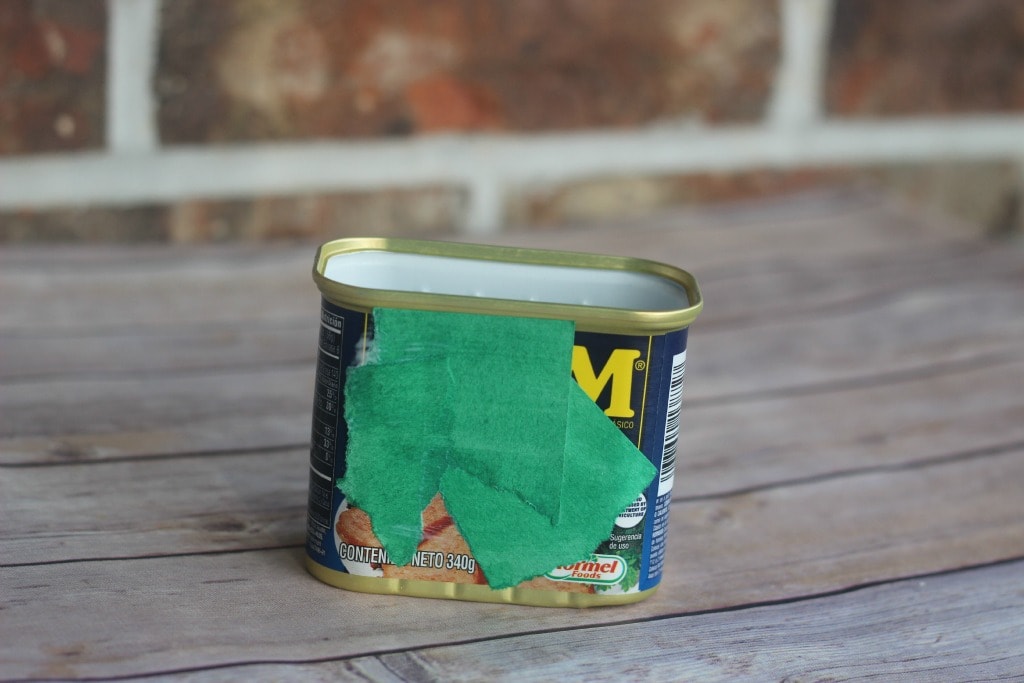 Let dry.
I was going to cut out his facial features out of black construction paper but then remembered that I had Halloween stickers. The stickers upped the "easy" quotient considerably.
Place the stickers onto one side of the Frankenstein head.
We almost stopped here but something was missing. After a little input from the kids, I agreed that he needed "those metal things on his neck." I simply raided my never used sewing box and super glued these bobbins to the side of the can. It was the perfect touch!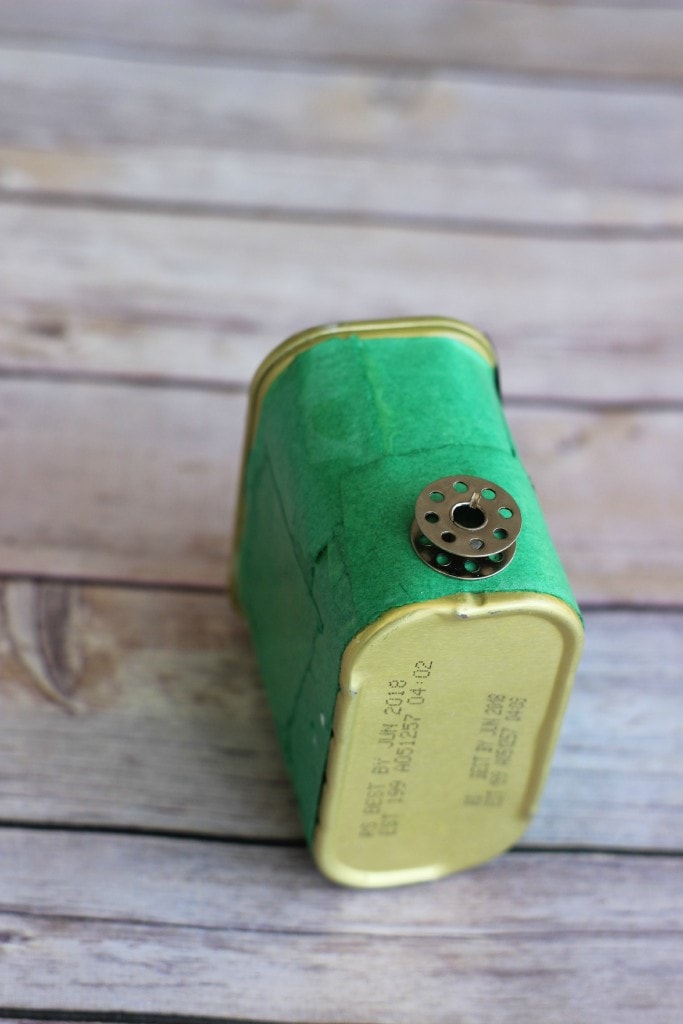 This little guy would be a cute way to store and display black pencils. This is our first Halloween decoupage craft. What do you think?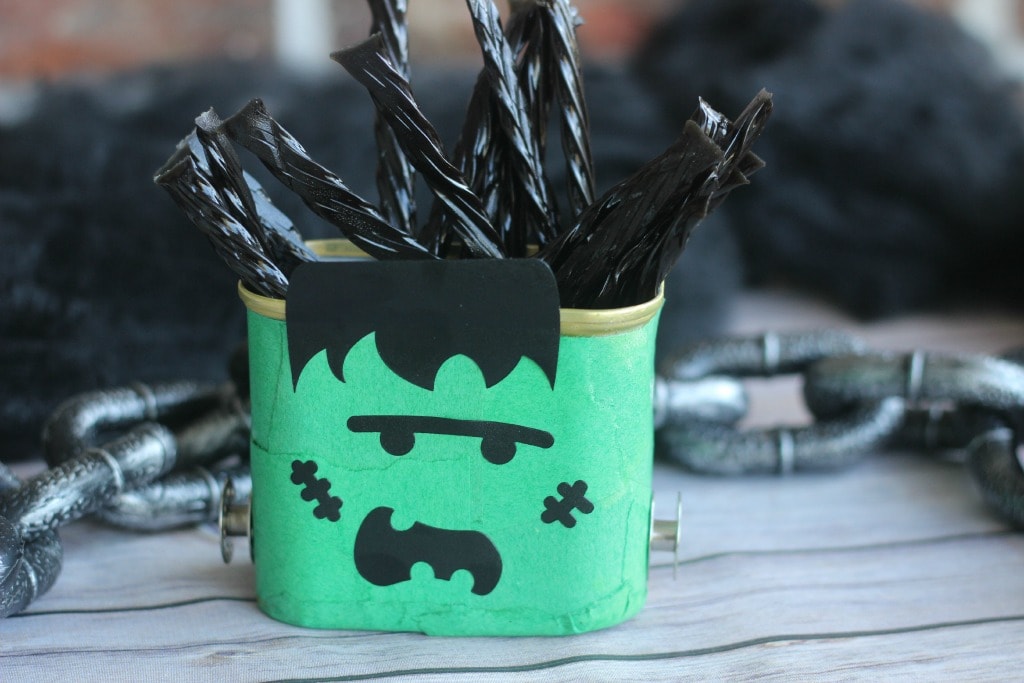 We decided to give him some licorice hair and use it for a Halloween party decoration. What would you put in it?