I know many of us are looking to lose weight this year. I don't care so much about the number on the scale, though. I aim to lose fat. For the me the problem is what I eat, or rather, what I don't eat–enough fiber and vegetables.
I love working out. Sadly, I can't out exercise my bad diet.  When I let myself go–I let myself go! Eating well is the basis for fat loss. When I eat nutritious foods, my portions are naturally smaller because I am sated.
I won't make it a resolution because it isn't a difficult change for me. It's more of a lifestyle that I return to every year after Halloween, Thanksgiving, and Christmas are over.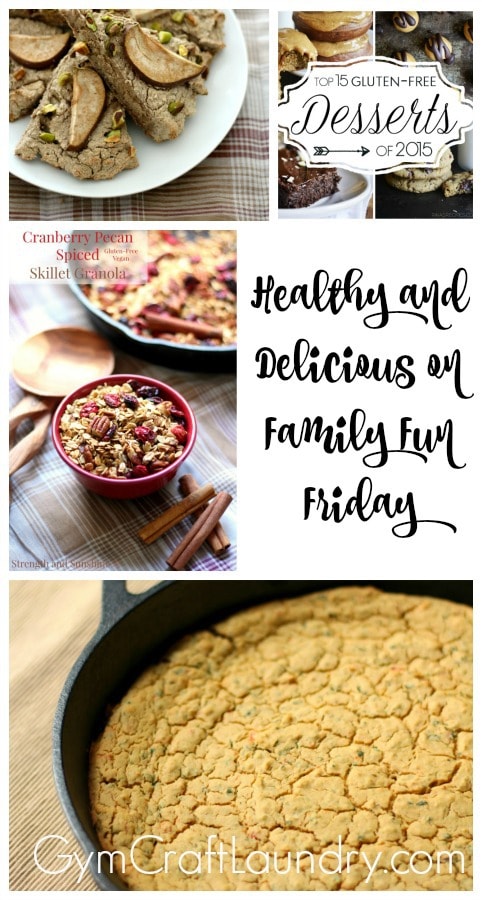 Here are my healthy food features this week.  I can't wait to see what you guys link up next!
This round up of the
Top 1o Recipes
from
Trick and Treat
has some great healthy treats in it!
As the mother of a child with multiple food allergies, I love reading
Raia's Recipes. 
Her
Top 15 Gluten Free Desserts
has so many options!
IN CASE YOU MISSED IT!
MEET OUR FAMILY FUN FRIDAY HOSTESSES:
Monica created Family Fun Friday and blogs at HappyandBlessedHome.comwhere she shares, easy recipes, free preschool tools and printables, encouraging words for moms, and ideas for having fun together as a family. Follow: Blog / Facebook /Pinterest / Twitter/Google + /Bloglovin'/Instagram. Monica will round-up all the Family Fun Friday posts.
Herchel enjoys blogging about parenting, organizing, crafting, and having good old-fashioned kid fun on her blog Gym, Craft, Laundry. Follow: Blog /Facebook/Pinterest /Twitter /Google +. Herchel will feature organizing and family fun.

 

 

 Rachel's blog, a Life Surrendered offers encouragement to moms, uses humor to navigate the surprises of life and strives to rest in the promises of Jesus. She is the mom to three wonderful children and enjoys finding fun ways to enrich their learning. Follow: Blog/Facebook / Pinterest / Twitter / Instagram /  Rachel will feature fun homeschooling tips and resources.
To PIN a specific blogger's post please click through and pin directly from their site. If you're a mom keep reading because we have some wonderful fun ideas to inspire you with your little ones and family. My blogging friends are linking up craft ideas, fun in the kitchen, preschool & homeschool ideas, and ways to spend time as a family.
Make sure you visit Happy and Blessed Home to see all of our features this week and to welcome our new co-hosts!