Spring illnesses, soccer season, and preparing for Easter made March a crazy month!  I didn't make it to the gym more than a handful of times all month…which of course, affected my sleeping patterns and stress levels even more.
I am delighted that (except for the craziness that is soccer) the days are settling back into my normal routine.  I finally got the pool clear and ready for some swimming and fun with the kids.  We planted a few plants but have a lot more work to go.
This is the part of spring I love! I suppose I am a bit of a homebody and like things simple which brings me to my picks for this week.
My daughter has several cherished receiving blankets that she still sleeps with.  I love this DIY Upcycled Baby Blanket Bunnies.  Maybe one day she will let me do this for her!
I am pretty horrible at gardening but am thinking of trying to build a Raised Garden Bed.
I love how pretty this Hydrangeas and Daffodils Wreath looks!
I am still working on spring cleaning so this is a perfect time to Freshen up my home for Spring.
It's never too early to start mentally preparing myself for the summer.  I will have to run all of my errands with my kids so it will be nice to stay sane.
My husband and I both love the nautical look.  I might be re-doing our bedroom and this would be perfect.  Pottery Barn inspired Nautical Lamp.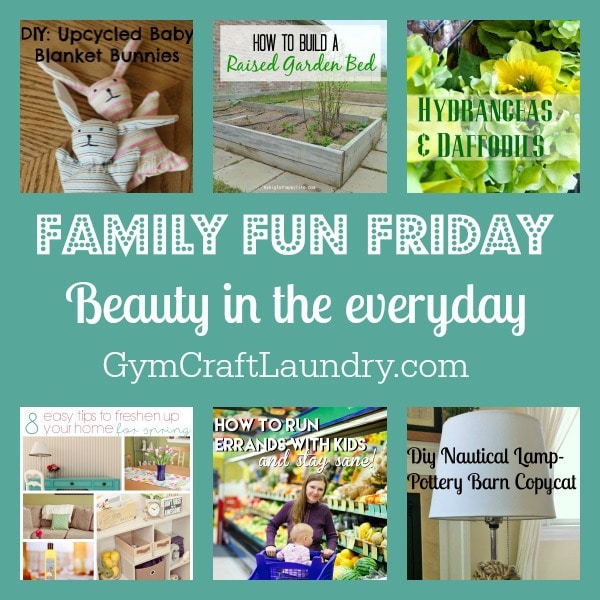 Onto the Link Party!
Family Fun Friday is a weekly link party where bloggers share their family oriented crafts, recipes, thoughts, homeschool tips and activities.  Each week each co-host picks SIX features!  Link up your best posts for the chance of being featured on five blogs.  We have a great community here at Family Fun Friday with over 200 posts linked up each week.  Moms take a minute to surf around and see what is linked.  I'm sure you'll find something fabulous.
Meet our Family Fun Friday hostesses: