Do those people who argue about nature vs nurture have any children?  If they did maybe they would stop debating this issue because the answer is CLEARLY both.
My daughter has it in her to be Regina George (If you didn't get that reference go watch "Mean Girls!") and she was born that way.  Though she is graced with beauty, determination, strength of will, definite opinions, and an innate ability to manipulate people she was also born with an affectionate, silly, and shy side.  She's a natural mean girl.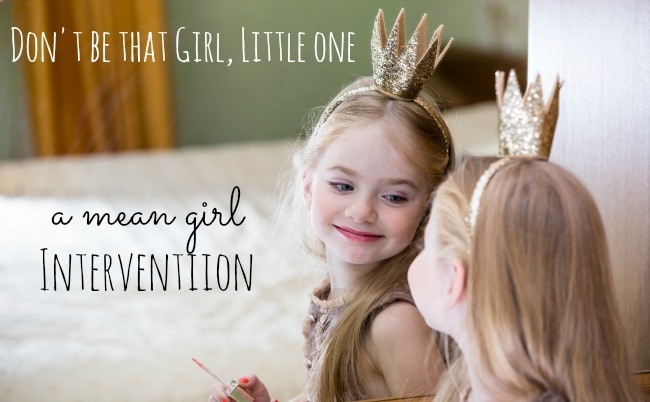 I joke that my job is to teach her to use her powers for good instead of evil.  But it's true, right?  Isn't that my job as a parent?  To nudge her towards the light side of the force?  To teach her that the things she says to people can be hurtful?
I am not sure how she happened.  (No, you don't have to email me the birds and the bees script.)  I mean that I am bewildered that she was born of me.  I was about as far away as you could get from a popular mean girl when I was in high school!  I was introverted and preferred books to people.  My glasses were huge and my clothes unfashionable.  I won the Mythology Bowl in seventh grade. I spent all of high school in band.  I was the band captain my senior year.  The band captain.
How in the world did I spawn a pretty little girl that bats her eyelashes and gets what she wants?!  She's a mastermind I tell you!  I have seen her run into preschool and group hug her clique of friends.  She is a leader of a group of pretty, smart, and headstrong girls.   Though she can be cutting, especially when they call her the hated "Diapey Pipey" nickname, they give it right back to her.  They've been flocking together since they were two.
I remember the day she came home and innocently told me that she and her friends didn't let another little girl play with them because her jacket was blue and they ONLY like pink.  I hesitated in shock for a minute.  Then I asked her how she would feel if I made her wear a blue jacket tomorrow and her friends wouldn't speak to her.  We discussed how everyone likes different things and colors.  We talked about why Tammy was her friend in the first place.   She was three at the time.  Apparently the only qualification that they had for picking friends was that the other liked princesses.  They've matured a bit since then and now she chooses friends based on how they treat her and if they like to do similar things.  But I can't help but think about that day and worry that I am not doing enough to instill the proper values in my children.
You see, my mean girl has many fears.  She is terrified of large crowds, bugs, strange places, strange people, train tracks, the dark, needles, standing in front of people…you name it.  When in her element she is the queen bee.  When she is taken from it, she curls into her Mommy's arms and hides her face.  How such anxiety and extreme confidence reside in one small body, I cannot fathom.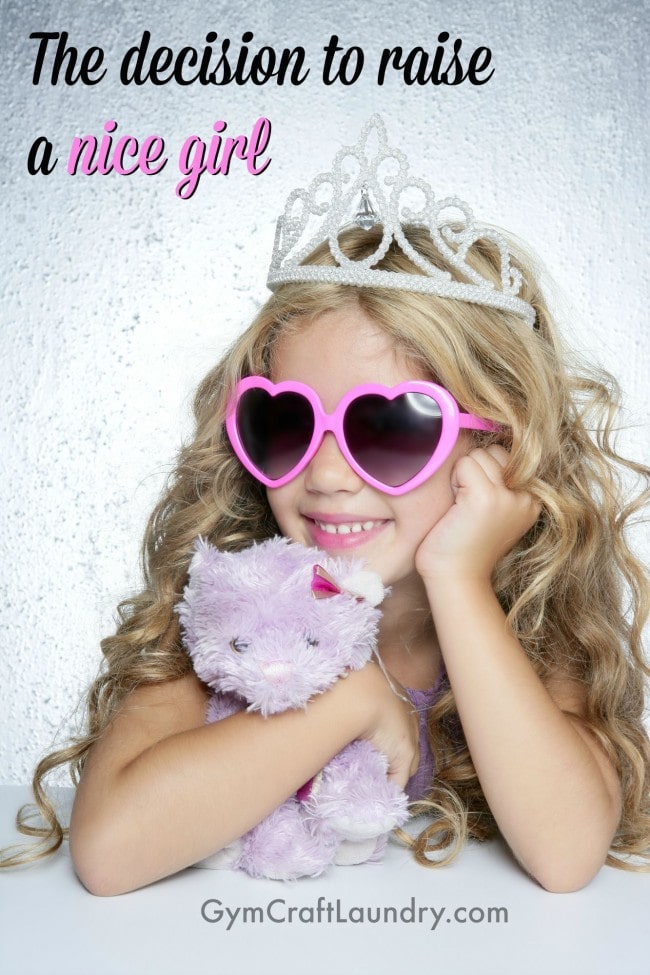 I have read many posts about bullying and how to help your daughter deal with mean girls.  I've read posts written by women who clearly have felt the cutting edge of a mean girl's tongue.  I know that the memories hurt.  I still remember the mean girl that wouldn't let me sit at her breakfast table in the cafeteria when I was a new freshman.  She announced to the others, with the ugliest expression on her perfect little face, that she saw the outfit I was wearing at "Kmart."  Nevermind that my family had just lost our home and all our belongings in Hurricane Andrew the week before and that my single dad was doing the best he could with two teenage girls and a young son who missed their home and their mother.  (Twenty something years later and now I wonder what her perfect little self was doing in Kmart in the first place?)
Am I the only mother that recognizes the trait in my daughter?  Granted, it is pretty rare that the trait rears its ugly head.  I do not tolerate rude and nasty behavior towards others in my presence.  I am just not always present…or she doesn't realize I am and I catch her.  Do the mean tween girls have mean girl moms that don't realize that their little girls are bullies?  I hope that recognizing the trait means that I have a better chance of nipping it in the bud.  In reality, these type A girls do eventually grow up to be successful, driven women.   I don't want to curb her self-confidence.  I just want her to be confident and kind.  
Am I the only one that is working hard to keep my girl from going mean?