Why do we always go nuts during the holidays? No, I don't mean with buying gifts (only because I still need to start my Christmas shopping!) It just seems that every minute is accounted for leading up to Christmas. Things have to be prepared, presents purchased and mailed, and Christmas festivities galore.
I've always thought that Christmas can be a particularly stressful time of the year.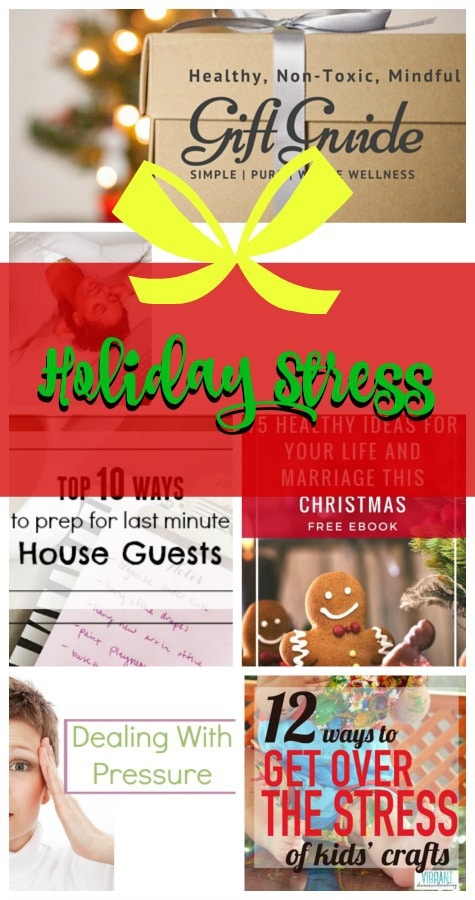 Your Vibrant Family's 12 Ways to Get Over the Stress of Kids Crafts helps moms handle the frustration of crafting with kids. I love to craft with my two monsters but it can be a little overwhelming!
Do you want to give healthy, mindful gifts this Christmas? Jennifer Weinberg, MD has a great list!
Calm, Healthy, Sexy shared a list of 75 Healthy Ideas for your Life and Marriage this Christmas.
The End in Mind had two posts that I chose for this week's features.  I need all the help I can get with Dealing with Pressure and Dealing with Mental Clutter.
The Crazy Organized Blog has some awesome tips on Prepping for Last Minute House Guests.
In case you missed it!
MEET OUR FAMILY FUN FRIDAY HOSTESSES:
Monica created Family Fun Friday and blogs at HappyandBlessedHome.comwhere she shares, easy recipes, free preschool tools and printables, encouraging words for moms, and ideas for having fun together as a family. Follow: Blog / Facebook /Pinterest /Twitter/Google + /Bloglovin'/Instagram. Monica will round-up all the Family Fun Friday posts.
Herchel enjoys blogging about parenting, organizing, crafting, and having good old-fashioned kid fun on her blog Gym, Craft, Laundry. Follow: Blog /Facebook/Pinterest/Twitter /Google +. Herchel will feature organizing and family fun.
Heather blogs at Life of a Homeschool Mom where she shares her heart for homeschooling, resources and freebies for homeschooling moms everywhere. She and her husband are raising three beautiful girls. Follow: Blog/ Facebook / Pinterest / Twitter / Instagram/Google+. Heather will feature fabulous tips and resources for Homeschoolers.


Whitney blogs at That Square Plate. She loves cooking small, flavorful dishes with fresh ingredients, and seafood! She was a picky eater growing up and now she aims to catch up on all she missed! Follow: Blog / Facebook / Pinterest / Twitter/ Instagram/ Bloglovin. Whitney will feature delicious and easy recipes.
To PIN a specific blogger's post please click through and pin directly from their site. If you're a mom keep reading because we have some wonderful fun ideas to inspire you with your little ones and family. My blogging friends are linking up craft ideas, fun in the kitchen, preschool & homeschool ideas, and ways to spend time as a family.
Make sure you visit Happy and Blessed Home to see all of our features this week and to welcome our new co-hosts!