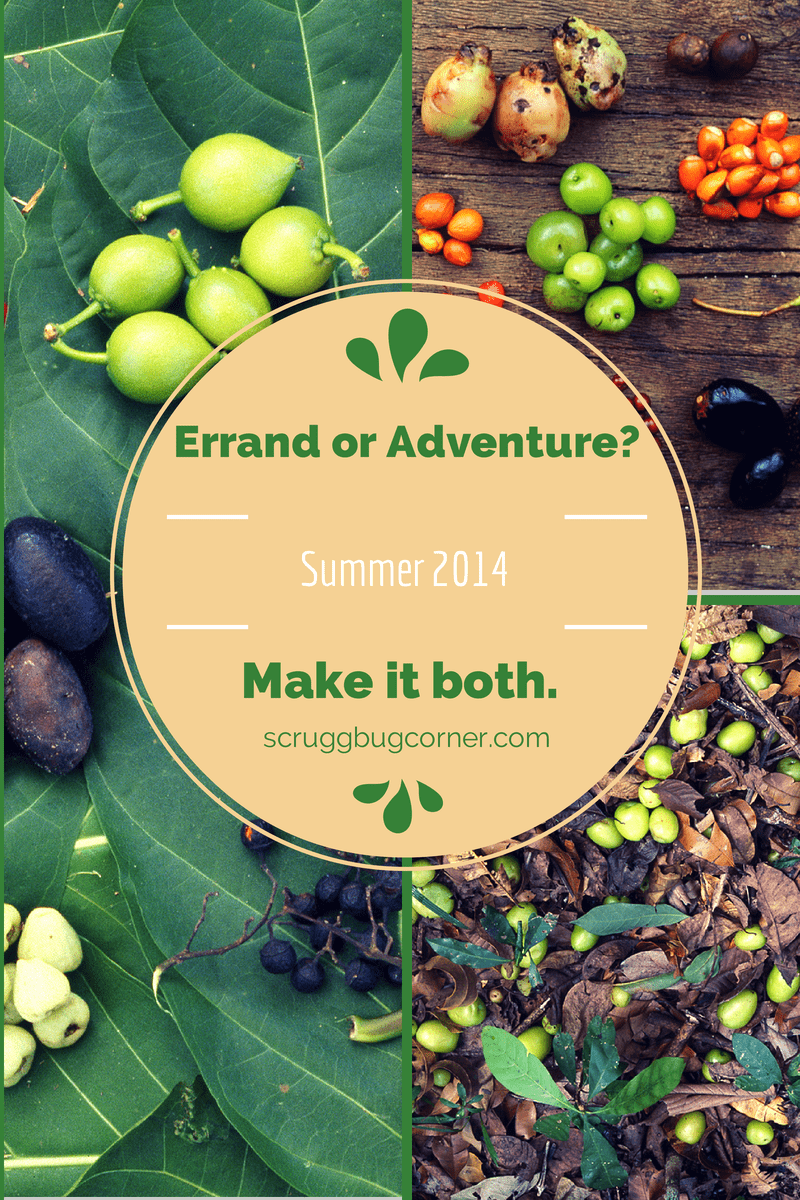 We are nearing the end of our first week of our first summer with me as a work at home mom.  Don't worry.  We've all survived.  I did cheat a little, I suppose.  I had to bring them to daycare on Thursday when I had a dental procedure scheduled that was forcasted to be over an hour long.  It just so happened that the "school day" was right at the time when the boredom and frustration over the rain storms keeping us out of the pool was at it's limit.  Win for them.  Painful for me.
I originally had great expectations of summer long craft projects.  Trips to all of the parks in the area.  I even have a list of attractions within day trip distance from us to try.
What I didn't have on my list of The Great Summer, was a reminder that Florida weather is fickle at best and HOT and HUMID at worst.  Who wants to play on the monkey bars when you are drenched in sweat and gnats after two minutes and have to swim through an ocean of sticky air to make it from one monkey bar to the next?  My daughter LOVES "melting" (as she calls it when her face and nose start to sweat).  She especially loves how the sweat causes her butt to stick to the slide as she tries to force herself to slide without stopping.  In other words, that plan is out.
As a kid, my summers were low key.  We didn't have everything mapped out.  Days were spent playing outside with my siblings and our friends.  We swam, we biked around the neighborhood, we watched tv.  I miss those days!
Who am I to replace that kind of freedom and relaxation time for my kids with endless structured activities?
I do plan to go on at least one "adventure" a week with the dynamic duo.  I love spending time with them and even I get tired of being at home everyday.
That adventure doesn't have to cost a lot of money or "tickets."
It doesn't even have to be planned.
Last Monday, I decided that I wanted to drive out to a local produce and organic meat store we have in town.  It wasn't until after we got back home and Pea thanked me for bringing them that I realized that my errand had become our adventure for the week.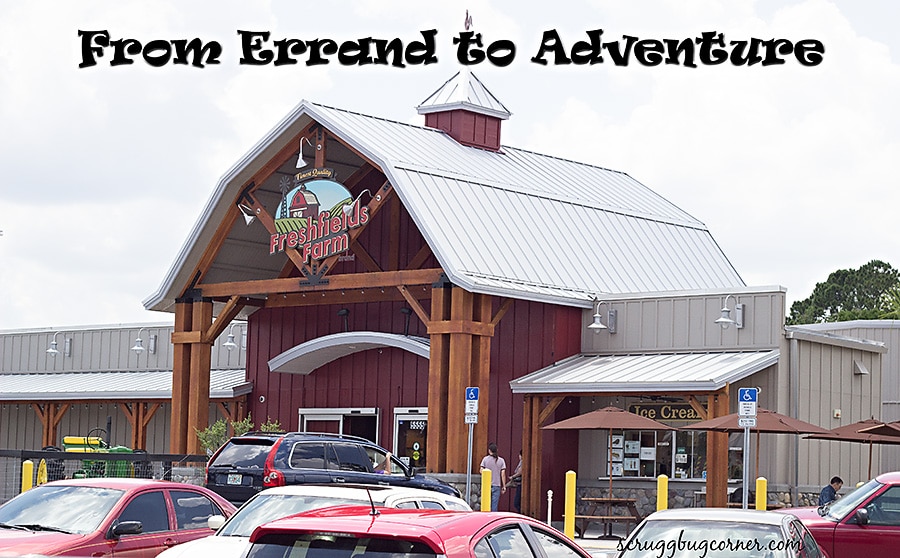 How do you make an errand into an adventure with your kids?
Go somewhere different.
The store we went to is called Freshfield Farms.  It looks like a barn.  It has bales of hay decorating the outside of the store, along with a tractor out front!  It's not every day that we go to a grocery store with a tractor out front.
Go somewhere farther than usual.
The store is about 40 minutes away from our house.  I am beginning to the think my kids equate car rides lasting over ten minutes with adventures.  I don't really venture out of our side of town often.  When we go to the zoo, Disney, to visit my sister, etc we usually drive.  So, long drives=somewhere fun.
Have a meal there.
Again, I normally cook meals and when we go somewhere that is too far to come back home to eat, it is outside of our humdrum routine.   Freshfield Farms has an awesome little concession stand beside it with a few outdoor tables.  They sell hotdogs, smoked turkey legs, and ice cream with fresh fruit toppings (at half the cost of a fair or amusement park).  We met a friend there and had lunch outside.  Pea is crazy about turkey legs.  When she was a toddler, people would laugh as she chowed down on the turkey leg while I pushed her around in the stroller.  She refuses to share and gets this hard, menacing glint in her eyes if you get too close.  Really, only fun places like the County Fair and amusement parks sell smoked turkey legs.  She was so excited she did not complain about how hot it was outside… overly much.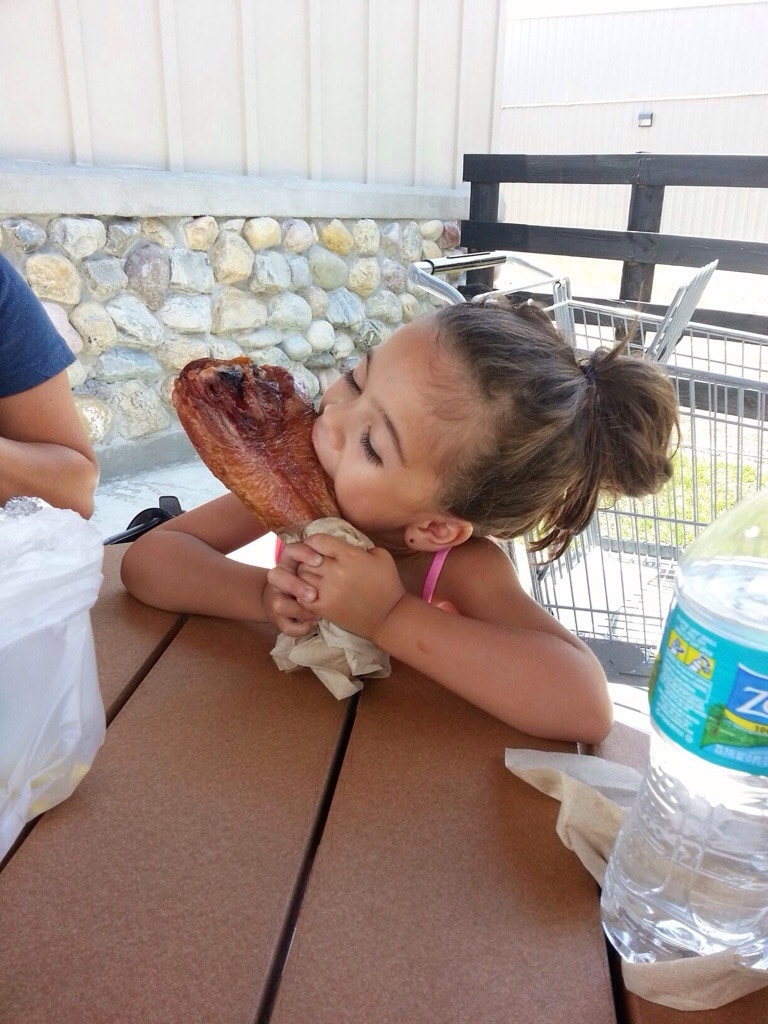 Pork Chop was in heaven with his hotdog and ice cream cone.  That kid loves ice cream.
Don't rush.
Since it is summer and I didn't have to run off to pick up one kid or the other from school, we were able to shop at a leisurely pace.  Freshfield Farms tends to get crowded in the afternoon though, so next time we will head there a little earlier in the day.
The kids fell asleep in the car.
The excitement of a new location and the filling lunch had them nodding off on the ride home.  The success of most days out with my kids can be measured by whether or not they fall asleep in the car.
All in all, it was a perfect scorching summer day.  How is your summer going?