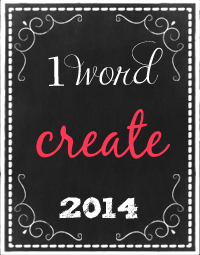 The one word I have chosen for 2014 is Create. It took me a while to decide on my word.  I actually just picked it this morning.  My original choice was between "success" and "productivity."  However, upon further thought I settled on "create."
This year I have the opportunity to create a better life for my family on many different levels.  I will create a nurturing and educational home environment for my children.
I will create a better future for my family by acting on my career change decision and returning to school to continue my education in health care.
I will create awareness about Juvenile Arthritis.
I will create connections with my words.
2014 is a blank canvas waiting for me to create the best year of my life.   Happy New Year!