I know that many of you are busy moms or your own mom isn't one for handmade gifts.
Many times shopping for a gift is much easier than making something. But I love to personalize my gifts–with
decoupage
. I do like to make
decoupage gifts
too. Decoupage is quick but beautiful–like this
plate
.
Sometimes I wrap presents in white gift wrapping that my children have colored 
all over. 
Or I wrap a gift in a
dumb bell shaped box.
 Those personal touches add a little bit of heart to store bought gifts.

Here is a easy idea for a personalized decoupage gift box. It's perfect for giving to moms or daughters! 
 Affiliate links are included for your shopping convenience. 
Materials: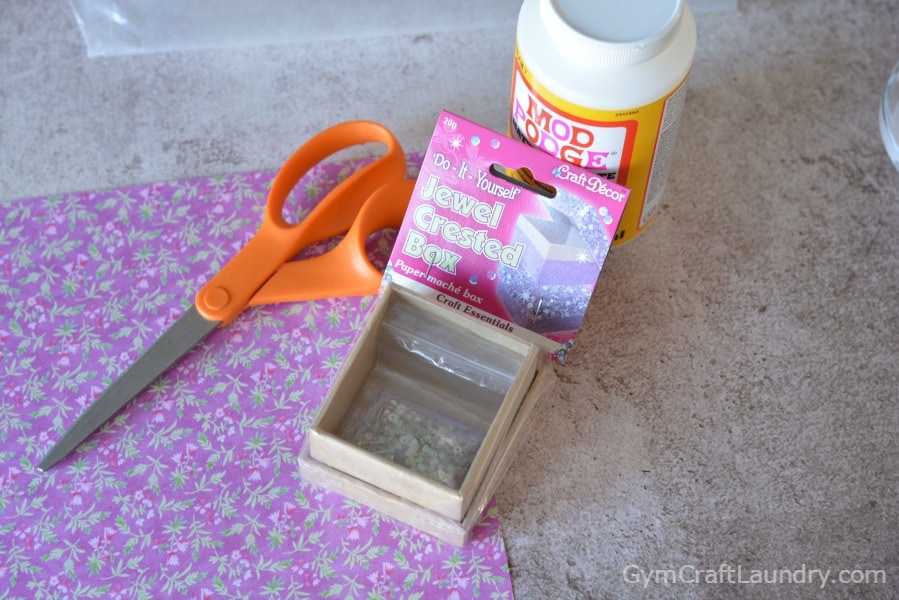 Dollar store paper box. This one came with glitter and sequins. Perhaps I'll save that for another project.
Scrapbook Paper
–see note, you may want 2, 12×12 sheets of paper
Directions:
Using scissors, cut your paper to it fits around and inside the box.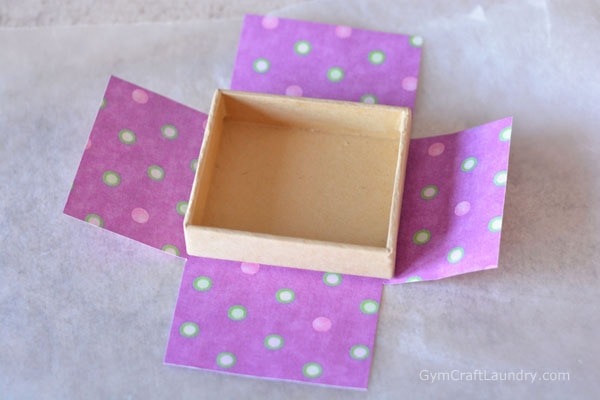 The easiest way to do this is to measure. My box is 2×2. If you add both the inside and outside of the sides, and a little extra, you need a 7×7 square. Like my math? 1+1+2+1+1=7
Cut the corners out of your square.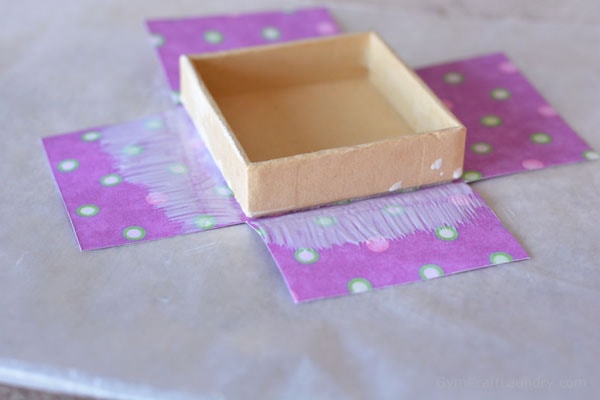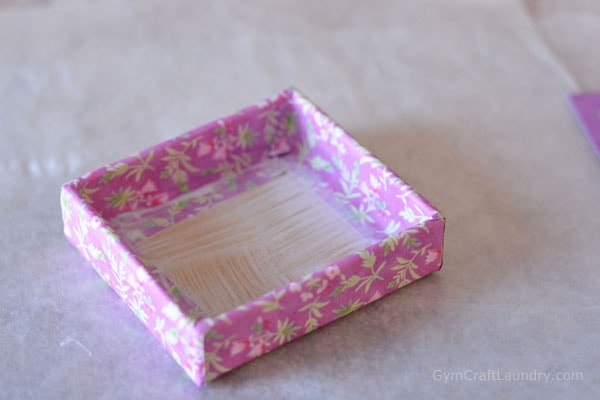 Cut a small piece of paper to fit inside the lid of the box. I used the back of my scrapbook paper as it had a coordinating circle print.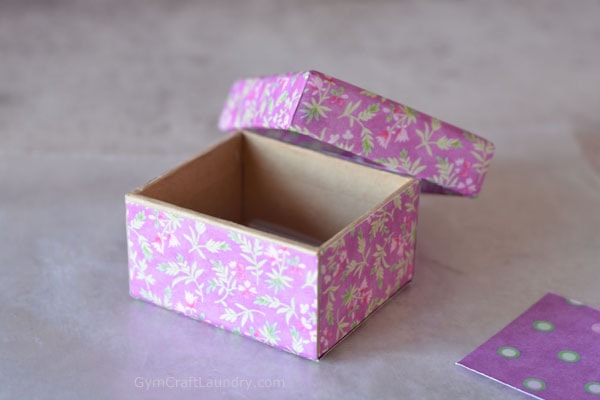 Using mod podge, affix the paper onto the box. Start with the top, and work down the sides to the inside. Lastly put the paper onto the top of the box.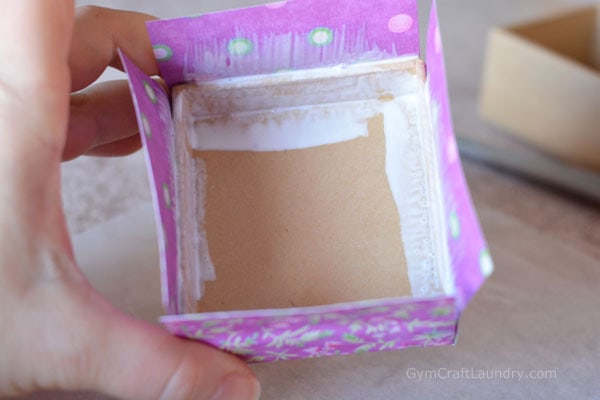 Do the same with the bottom. Note: I only had one piece of scrapbook paper so I had to do the bottom of the box a little differently. I was bummed but it still looks great. I had to piece together the scrap paper I had to cover the box. You'll need two pieces of large scrapbook paper if you want to wrap the paper all the way to the inside.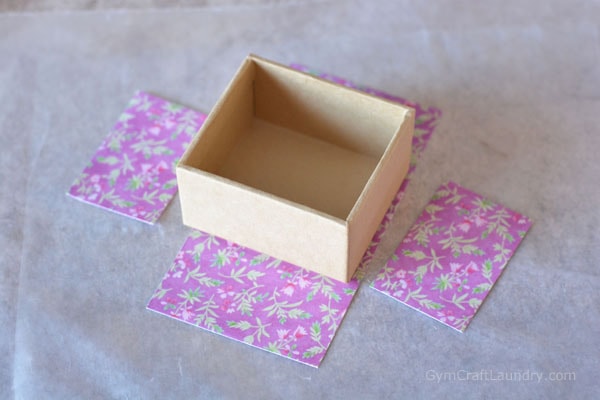 As you can see, I had to cut three piece of paper to cover the outside and another piece for the inside/bottom of the box.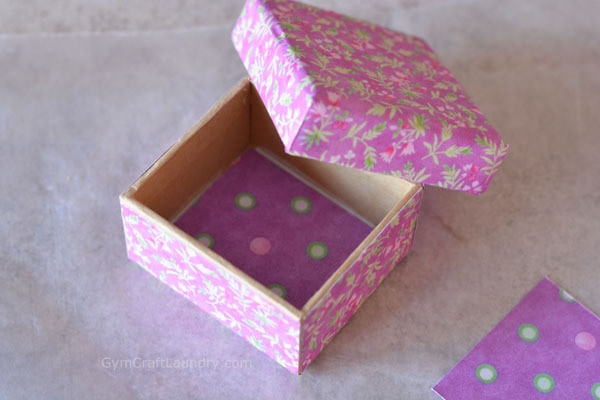 Let dry. Stuff with some paper stuffing and some new pearls and give to mom for Mother's day!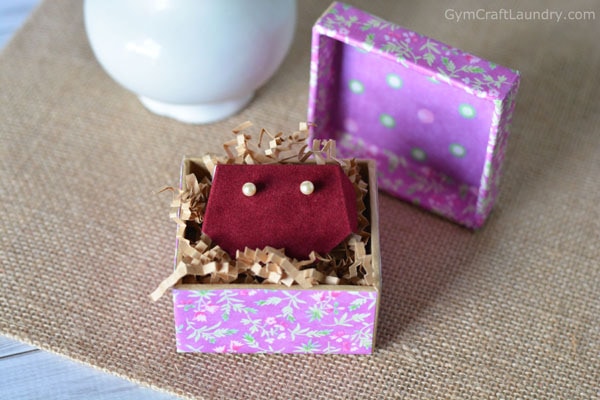 What do YOU want for Mother's Day?
You may also like