Halloween is not creeping up. It's heading straight for us like a runaway train. We're prepared! Costumes are at the ready and the plans have been made. Looking for some last minute crafts? Here are some more cute Halloween crafts that you can make before the big day.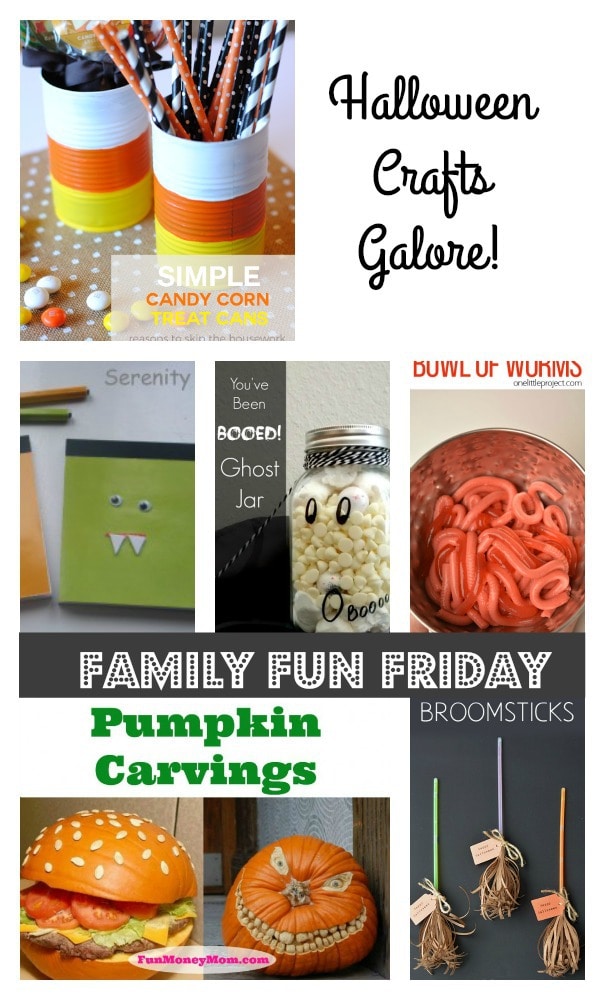 You've been Boo'ed gift jar from Simply Wright. Send a little Halloween cheer with these adorable ghost jars.
13 Amazingly Creative Pumpkin Carvings from Fun Money Mom. I wish I was this creative!
Glow Stick Broomsticks  and How to Make Jello Worms from One Little Project at a Time. I am not a fan of worms but this tutorial is genius. I especially like the broomsticks.  I plan to put these aside for kids that can't have food treats due to allergies.
Mini Monster Notebooks from Serenity Now are an excellent way to have the kids document their Halloween adventures.
Simple Candy Corn Treat Cans from I Dig Pinterest. I am a sucker for tin can crafts and the simplicity of these treat cans add to the cuteness factor!
Thank you ladies for the Halloween inspiration and happy crafting!
ONTO THIS WEEK'S PARTY!
MEET OUR FAMILY FUN FRIDAY HOSTESSES:
Monica created Family Fun Friday and blogs at HappyandBlessedHome.comwhere she shares, easy recipes, free preschool tools and printables, encouraging words for moms, and ideas for having fun together as a family. Follow: Blog / Facebook /Pinterest /Twitter/Google + /Bloglovin'/Instagram. Monica will round-up all the Family Fun Friday posts.
Herchel enjoys blogging about parenting, organizing, crafting, and having good old-fashioned kid fun on her blog Gym, Craft, Laundry. Follow: Blog /Facebook/Pinterest/Twitter /Google +. Herchel will feature organizing and family fun.
Heather blogs at Life of a Homeschool Mom where she shares her heart for homeschooling, resources and freebies for homeschooling moms everywhere. She and her husband are raising three beautiful girls. Follow: Blog/ Facebook / Pinterest / Twitter / Instagram/Google+. Heather will feature fabulous tips and resources for Homeschoolers.


Whitney blogs at That Square Plate. She loves cooking small, flavorful dishes with fresh ingredients, and seafood! She was a picky eater growing up and now she aims to catch up on all she missed! Follow: Blog / Facebook / Pinterest / Twitter/ Instagram/ Bloglovin. Whitney will feature delicious and easy recipes.
To PIN a specific blogger's post please click through and pin directly from their site. If you're a mom keep reading because we have some wonderful fun ideas to inspire you with your little ones and family. My blogging friends are linking up craft ideas, fun in the kitchen, preschool & homeschool ideas, and ways to spend time as a family.
Make sure you visit Happy and Blessed Home to see all of our features this week and to welcome our new co-hosts!