Hi! Are you looking for flushable wet wipes? You've found them! 
Stomach viruses are the worst. I've written about staying hydrated and the items I keep in my sick kid prep list but I wanted to revisit this topic, because odds are, if you come down with even a mild stomach bug or food poisoning you'll be revisiting the restroom…over and over again.
And it really starts to chafe.
When a bug hit several members of the family, I re-purposed an old homemade baby wipes recipe into a homemade toilet wipes recipe out of necessity.  I wasn't blogging when I my kids were babies so I don't have an exact source 🙁  I was barely functioning during those early years of motherhood. The kids (thank goodness) have been out of diapers for a couple of years.
I originally considered the homemade baby wipes one of my "Pinterest fails" because the wipes were too small for infant blow outs.  I also made them in an old wipes container so they were difficult to get out of the container, unlike store bought wipes. Homemade baby wipes also don't travel well. They don't stand up well to the Florida heat.
DIY Wet Wipes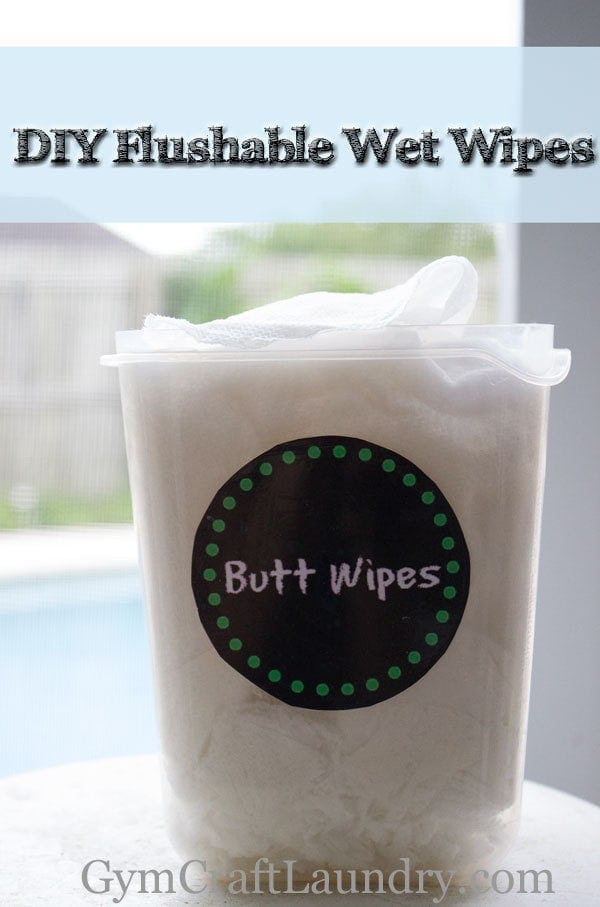 I used homemade wipes when I was potty training.  (Have you seen the cost of the Pullups potty training wipesor the name brand toilet wipes?  Scandalous!!) The homemade version works well for toddlers.
I also didn't mind using a bunch at once because they are so inexpensive to make.
The day of the stomach bugs, I was trapped in the house with a miserable child. My child was complaining that it hurt when I wiped her. My husband was deployed so there was no "running out to the store to grab wipes."
Fun times.
So I did what anyone at the end of their rope would do. I made some…
I used a cheap plastic container that stands upright.  I didn't buy wipes anymore so I didn't have an old container to use. This turned out to be a blessing.
This one change from using baby wipe containers to a tall plastic container made dispensing a great deal easier. I cut a roll of paper towels in half.  Based on news reports regarding the havoc wipes are causing in city sewage systems, you can use biodegradable paper towels.  Keep in mind that commercially made wipes are much more durable and take longer to break down than paper towels. That is why there is such an issue with the wipes in the country's sewage systems. Also–never ever flush baby wipes down the toilet! They are not made to flush.
After cutting the roll in half (which is the hardest part of this process.) I stood the roll up in the Tupperware.
I have included affiliate links for your shopping convenience.
Then I mixed 2 Cups hot water 1 Tbs Baby Wash (I don't like it to be too soapy) 1 Tbs Baby Oil (updated* I now use Fractionated Coconut Oil) a 6-10 drops of Tea Tree Oil (a small bottle lasts forever and it keeps the wipes from mildewing.)
Stir the mixture and pour it in the Tupperware.
Once the center cardboard roll is saturated, it is easy to remove.  Pull the wet paper towel in the middle up a little and you can easily grab wipes when you need them.
Voila! You have a wet wipes tub for the bathroom! I first made these when my kids were early readers. For some reason, they learned the word "butt" fairly early. The label I put on my container makes them laugh and reminds them to use what their mama made them. There are tons of adorable labels for sale on Etsy.

You can even purchase a customized decal and have the designer make it say "butt wipes."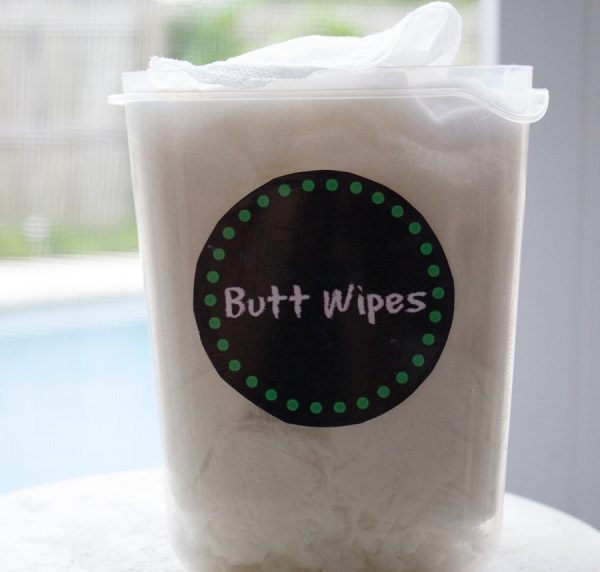 They are perfect.  These wet wipes are so inexpensive to make that I use them for everything! I clean up after my son when he "forgets" to lift the toilet seat. I clean toothpaste off the sink. There are tons of uses for them in the bathroom.
I also have new post gym wet wipes!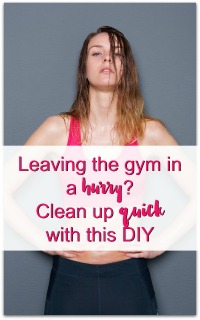 If you want to learn more about essential oils, register now for my free 14 Day email course: Essential Oils 101



For something a little stronger for surfaces try my DIY Santizing Wipes recipe!
Want to know some ways I use wipes?
Over 50 Ways to use Baby Wipes
The baby items I still use now that my kids are older
After gym body cleansing wipes