It's time to bring family fun outdoors this summer.  There are so many outdoor activities to try while school is out.  I am a big believer in tiring out my kids.  Whether it is in the pool, on the soccer field, at the playground, or in our yard physical activity is crucial for young bodies and young minds.
Although, I wish we could have a "70's or 80's summer" like the ones my siblings and I had growing up, it's a different day and age.  But that isn't all that bad.  I don't consider it hovering when I play outside with my kids. I consider that making memories. While I have great memories of riding bikes and going for walks on the Airbases I grew up on, my kids will have similar memories.  Only their memories will include me.  Is that really so bad?
This week, I chose my features based on two of my favorite parts of summer–playing outside and ice cream.  What can I say?  I live in Florida.  It's hot here.  Ice cream and ice pops are a necessity.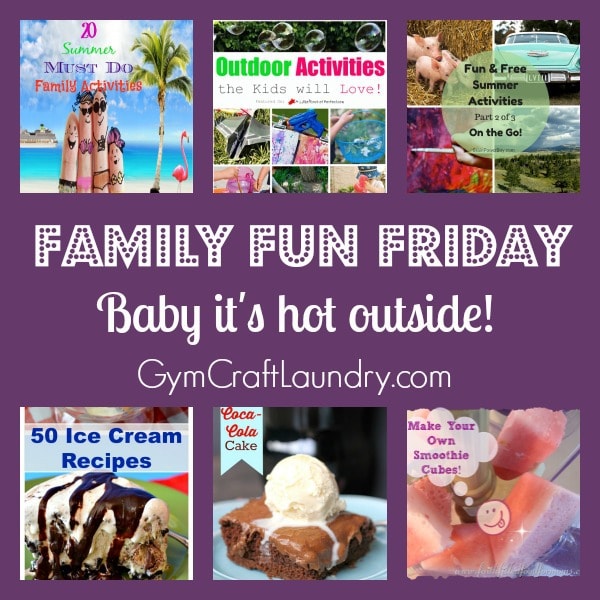 The sweet Kimberly of Lou Lou Girls shared 20 Must Do Summer Activities.  Most of these are already on my list but there were a few that weren't and now are!
A Little Pinch of Perfect's collection of Outdoor Activities the Kids will Love proves that I am a big kid.  There are so many of these I want to do!
Brain Power Boy's Fun and Free Summer Activities for Boys is extensive!  There are so many activities in this article that every single day of summer is pretty much covered.
Remember how I said I love ice cream?  Check out these 50 Ice Cream Recipes.
Cracker Barrel sure has some awesome food.  Have you tried their Rainbow Trout? Yum!  If you still have room in your belly after dinner, this coca-cola cake is delicious.  Better yet, make an entire cake at home with this awesome copy cat Coca Cola Cake recipe from I Dig Pinterest!
My last feature is much healthier than ice cream but it is still cold and can be creamy too!  Faith Filled Food For Moms shares how she makes smoothie cubes so that blending smoothies can be done in a pinch!
Thank you to all you fabulous bloggers that linked up last week!  I hope you link up again because I love seeing all your ideas for family fun!
Onto the Link Party!
Family Fun Friday is a weekly link party where bloggers share their family oriented crafts,
recipes
, thoughts, homeschool tips and activities.  Each week each co-host picks SIX features!  Link up your
best
posts for the chance of being featured on five blogs.  We have a great community here at Family Fun Friday with over 200 posts linked up each week.  Moms take a minute to surf around and see
what is
linked.  I'm sure you'll find something fabulous.
Meet our Family Fun Friday hostesses:
Check out these fun features from the cohosts!
This week Selena is featuring ideas for summer fun with preschoolers.  Be sure to check out these adorable links on Look We're Learning!
This week Britta has some yummy summer salads picked out!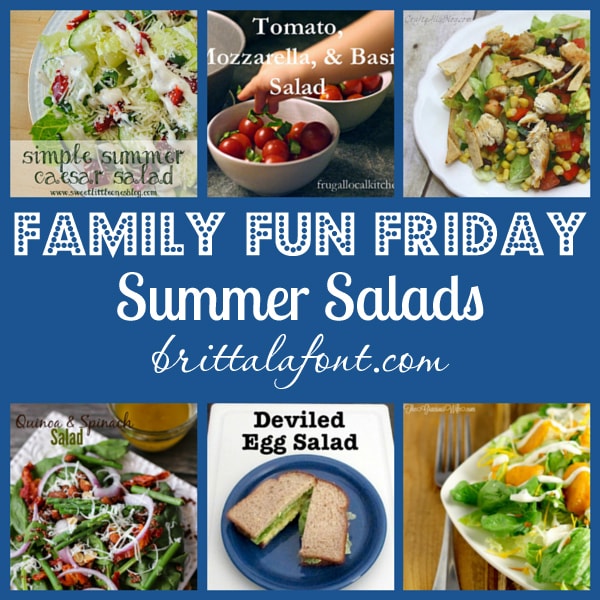 If you enjoy the features on Family Fun Friday please leave me a comment, I would love to hear from you! If you see things that you like here – please PIN them on Pinterest! If you PIN these lists it will help this blogging party grow. To PIN a specific blogger's post please click through and pin directly from their site. If you're a mom keep reading because we have some wonderful fun ideas to inspire you with your little ones and family. My blogging friends are linking up craft ideas, fun in the kitchen, preschool & homeschool ideas, and way