Based on the popularity of my easy popsicle recipes, especially the Strawberry Cheesecake Protein Pop, I am guessing that you guys like to indulge in "pseudo-decadent" treats.  Sticking to my current diet of 30% carbs, 40% protein, and 30% fats would be much more difficult for me if I didn't have some tasty treats to enjoy.  (I'm cutting some fat before we go on vacation.  I try to stick to 40% carbs, 30% protein, and 30% fats, on a normal basis.  Tracking macronutrients is much easier than calories.)
When healthier food is presented in such a yummy way, I kind of forget that it's "healthier."  Here is a list of some desserts that I am working through.  I love my old staple of coconut greek yogurt and berries but sometimes I want something with a little more pizzazz.
Ranging from healthy smoothies to popsicles, and even a healthy banana bread – these recipes are sure to get you ready for the summer! Not only can you contribute to a rockin' summer body with these healthy recipes, you can also indulge a little and enjoy some delicious treats!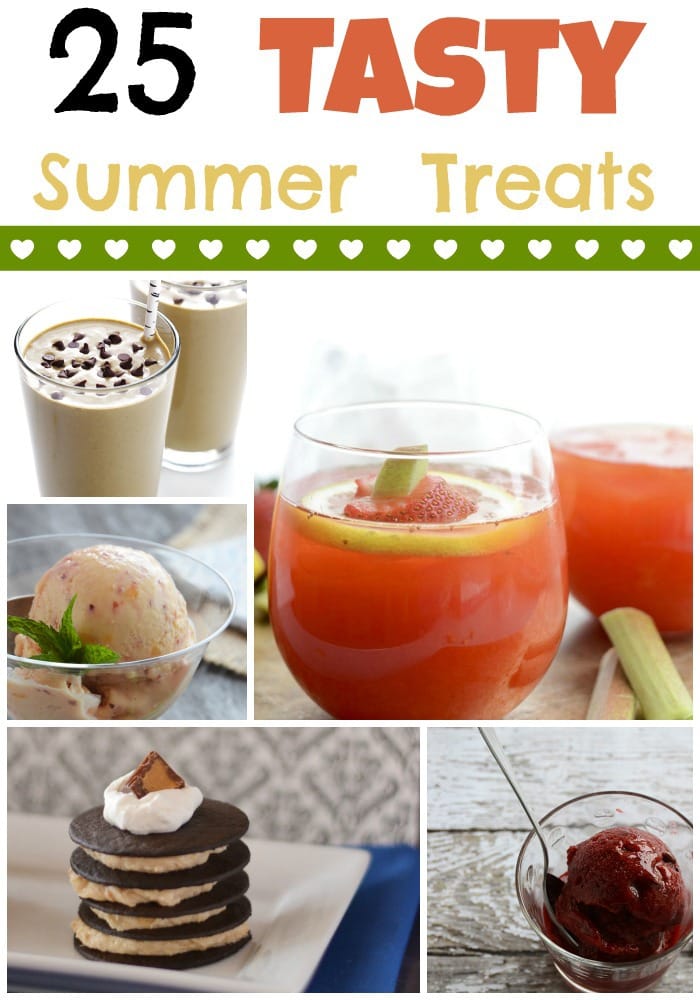 1. Chocolate Peanut Butter Green Smoothie
2. Strawberry Rhubarb Lemonade
3. Cookie Dough Ice Cream Sandwiches
4. No Bake Chocolate Peanut Butter Icebox Cakes
5. Summer Berry Smoothie
6. Protein Packed Power Smoothie
7. Instant Peach Frozen Yogurt
8. Sinful Lemon Cake
9. Summer Berry Bread Pudding
10. Paleo Friendly Banana Bread
11. Almost Instant Healthy Mint Chocolate Chip Soft Serve
12. Peach Mint Rum Popsicles
13. Cherry Chocolate Sorbet
14. Three Layer Ice Cream Bars
15. Pina Colada Fudge
16. S'mores Brownie Bars
17. Cherry Cheesecake Bars
18. Chocolate Raspberry Icebox Cake
19. Pineapple Cupcakes
20. Mango Yogurt Popsicle
21. Mango Lemonade
22. Blueberry Mojito Popsicles
23. Strawberry Cheesecake Ice Cream
24. Vegan Mint Milkshake
25. Strawberry and White Chocolate Mousse Tart
So far the mango yogurt popsicle is my favorite!  I hope you try a few of these tasty summer treats and let me know what you think.